Save Up to 40% | View our Best Sellers
Free Shipping on all orders over $150
30-Day Healthy Plant Guarantee | Learn More
Tomato Plants for Sale - Buying & Growing Guide
Where to buy Bamboo Palm
Find this product near you
Enter your zip code to find nearby stores that may carry this plant.
Tomato plants are one of the most popular types of plants in a home gardeners vegetable plot (even though they are technically considered to be a fruit). This is because tomato plants are incredibly easy to grow in a wide range of climates, they require very little maintenance, and they produce large yields of delicious and commonly eaten tomatoes. Tomatoes are a versatile kitchen ingredient, which can be used to make sauces, salads, side dishes, sandwiches, and even eaten as snacks. They have a sweet and mild flavor and contain many nutrients that make them a great healthy choice.
There are over 7000 varieties of tomato plants to choose from. Here, we cover some of the best types of tomatoes to grow and enjoy at home.
Tomato Plant Care
Before you learn about how to care for your tomato plant, you need to know that growth type your plant is. Tomato plants fall into two growing categories: cordon and bush.
Cordon Tomatoes
Cordon tomatoes, also sometimes referred to as 'indeterminate,' grow on long vines that usually need to be staked or have some sort of support. They will also need to be regularly pinched throughout the growing season if you want a high yield of fruits. As suggested by the fact that these types of tomatoes are called 'indeterminate,' these plants have an unspecified life span and mature height and will continue growing as long as the weather is suitable. This makes them a great choice in climates that have long summers, as it means you will get a long harvest season, with a plant that continues to fruit until it is killed by the first frost.
Bush Tomatoes
The other type of tomato plant is a bush tomato, also known as 'determinate.' These plants have a set height that they will reach, and then they will stop growing. They typically have a harvest period of about two weeks, and once this is done, the plant will start to die back. These tomatoes, like cordon tomatoes, grow on vines, but they take a more bushy form. These types of plants may also need support, as the weight of the tomatoes can be very heavy for the vines to bear, and it will help to keep your fruits from getting dirty on the ground. These plants are good if you want a large harvest of tomatoes all at once. They tend to require less maintenance than cordon varieties, as they do not need to be pinched. This makes them a good choice for beginner growers.
Planting
If you want to grow tomato plants from seed, you can start these indoors around six to eight weeks before the last expected frost to get a headstart on the growing season. Do this by setting the seeds on top of moist soil in a small container and set them on a bright windowsill. The soil should be kept moist but not allowed to become wet or soggy. Tomato seeds typically germinate within one to two weeks. As the weather warms, harden the seedlings by setting them outside for a few hours each day to help them transition to the outside climate. After a week or so of doing this, transplant your seedlings to an outdoor container or ground soil, making sure that the final frost has passed. Alternatively, at this point, you could also buy tomato seedlings to transplant to your garden. While planting your seedlings, set your stakes into the ground. Stakes support the plants and help to keep the tomatoes from resting on the ground. They also allow the plant to spread out and have better aeration, and they let in more sunlight. Staking is also a good idea if you have limited space because it allows for more vertical growth. If you decide to stake the plants later on, you will risk damaging the roots underground, so it should always be done while planting the seedlings. Cordon plants will need a stake of around eight feet in height, whereas bush plants can have shorter support systems. For plants that are staked, you can allow two feet between each tomato plant. If you are not staking your plants and will let them trail on the ground, then you should allow four feet between each plant. Water the transplanted plants thoroughly to help them settle in.
Climate
Tomato plants are summer plants that will grow anywhere that has a warm summer. If you live in an extreme climate region, then research that type of plant will be most appropriate for you, as some varieties are more cold hardy or more heat tolerant than others. No tomato plants will survive frost.
Light
Tomato plants enjoy plenty of sun. Plant them in a full sun position where they can get a minimum of six hours direct sunlight each day. If your climate experiences very hot summers, then you can shade your tomato plants for a few hours during the afternoon when the heat is at its most intense. This will help to protect your tomatoes from harsh sun that could damage them.
Water
When tomato plants are just starting out, they should be watered regularly to maintain moist but not wet soil. As tomato plants grow bigger, they should be watered deeply, either every morning or even several times a day in very hot climates. Deeply watering these plants will help them to develop strong root systems and enable them to thrive.
Fertilizer
Use a balanced fertilizer every two weeks throughout the growing season to get the best out of your plants. You can also buy fertilizers that are specifically designed for tomato plants, which may be cost-effective if you have several different tomato plants to feed. Be careful of fertilizers that are too heavy in nitrogen, as this will cause lots of leafy growth on the plant at the expense of the fruit.
Harvesting
Tomatoes should be kept on the vine as long as possible. Contrary to popular belief, tomatoes that fall off before they are ripe should not be put on a bright windowsill-this can cause them to rot! Instead, put them in a paper bag in a cool, dark spot to ripen. Remove tomatoes from their vine once they have developed to the correct color. They should feel firm. After harvesting, store tomatoes in a cool, dark place, but do not refrigerate them, as this can spoil both their texture and their taste. If you have a large yield of tomatoes that you want to save, these can be cored and frozen whole in sealed freezer bags.
Types of Tomatoes
Beefsteak Tomato
Beefsteak tomatoes are the largest of all types of tomato and have a meaty flesh with a mild yet sweet flavor. These tomatoes are popularly used for slicing onto a burger or sandwich, but also work well in sauces or in salads. They often have ribbing and are typically pink or yellow.
1. Costoluto Fiorentino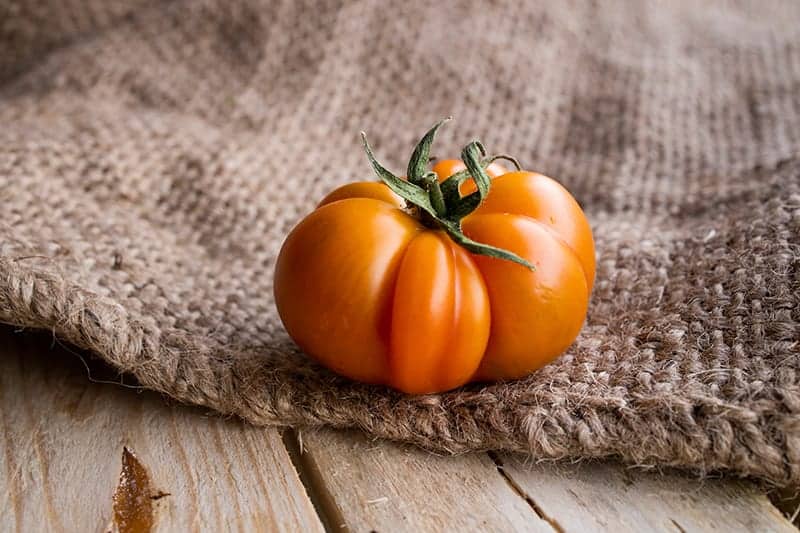 Growth Type: Cordon
Mature Height: 5 feet
This is an Italian heirloom variety that produces large tomatoes with irregular ribbing. Fruits will be asymmetrical and may be misshapen, measuring up to four inches across. These tomatoes have a good flavor and are very fleshy. They are ideal for slicing in salads or for use in sauces.
2. Marmande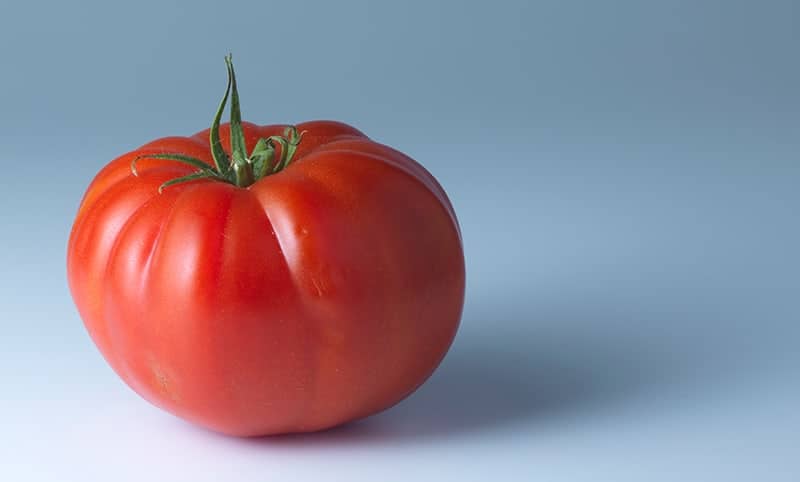 Growth Type:Cordon Mature Height:7 feet
This is a late-maturing variety that produces deep red luscious tomatoes with a sweet flavor. They have an irregular shape, with few seeds and firm flesh. This is an award-winning type of tomato, having been a recipient of the Award of Garden Merit from the Royal Horticultural Society.
3. Black Krim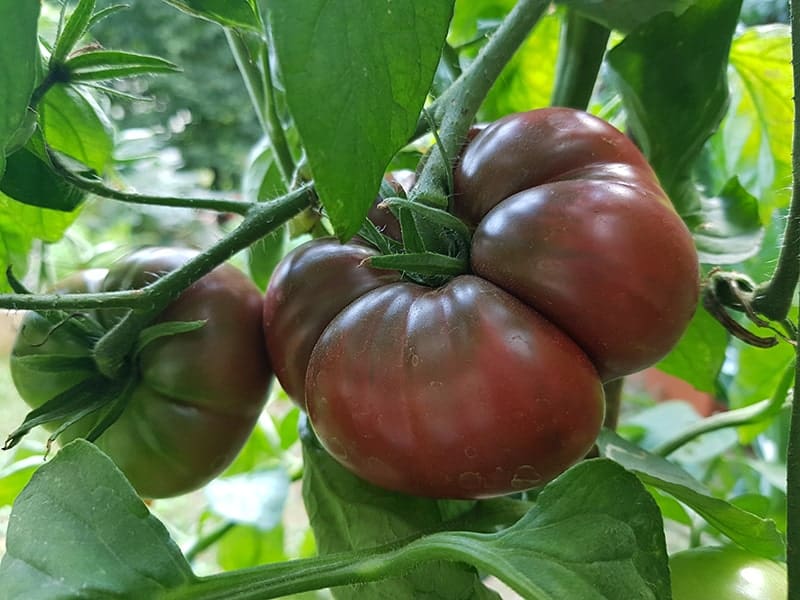 Growth Type: Cordon
Mature Height: 6 feet
This is a very old heirloom variety of tomato, which produces large fruits with a dark-colored skin that varies from red-brown to purple-black. It originated from the Isle of Krim close to the Crimean Peninsula and was the first 'black' tomato sold commercially in the US.
4. Brandywine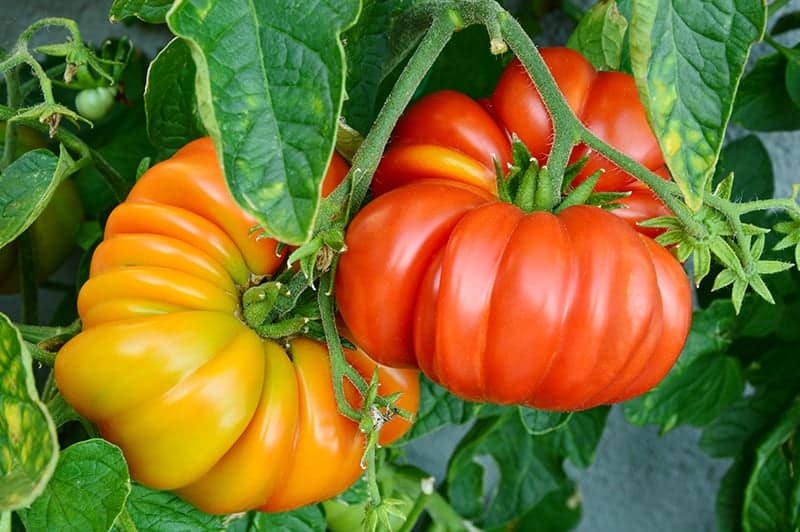 Growth Type: Cordon
Mature Height: 9 feet
This is one of the most popular types of tomato in North America, famed for having the best tomato taste. These fruits are large and have pinkish-red skin. They are a slow maturing variety, on average, taking 90 days to be harvestable. An easy way to identify this tomato plant is from its leaves that are larger than most other tomato plants, with a potato plant look about them.
5. Paul Robeson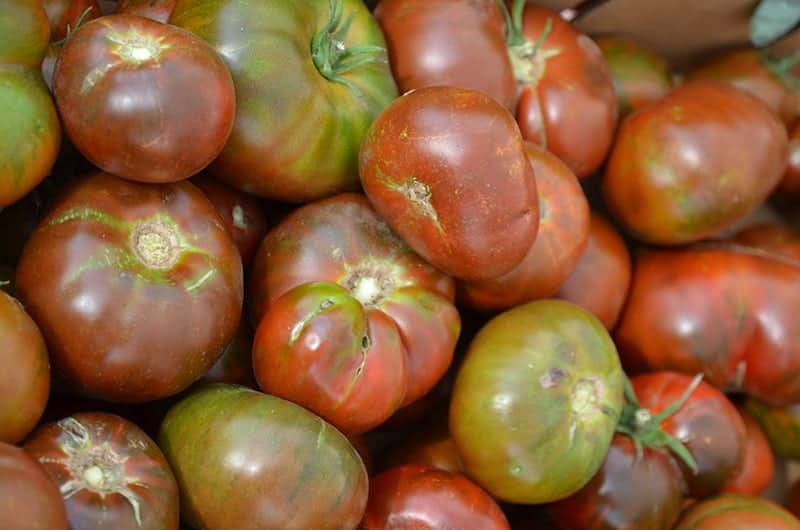 Credit to William Newton
Growth Type: Cordon
Mature Height: 10 feet
This tomato has a very distinctive taste, being both sweet and smoky. It is a Russian variety that is named after Paul Robeson, a Russian advocate for Black Equal Rights. These tomatoes take 90 days to mature. The plant grows vigorously and produces high yields.
6. Big Beef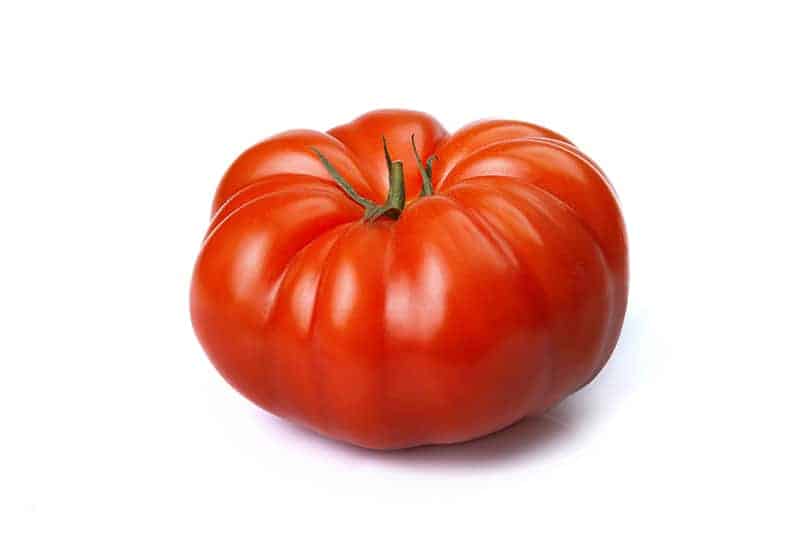 Growth Type: Cordon
Mature Height: 7 feet
This tomato was introduced in 1994 and has since become an award-winning and enormously popular variety. It matures early compared to other beefsteak tomatoes, at 73 days. It is also delicious and highly resistant to disease. It has a long harvest season of up to two months in good conditions, and it will even perform well in wet and cool weather.
7. Black Beauty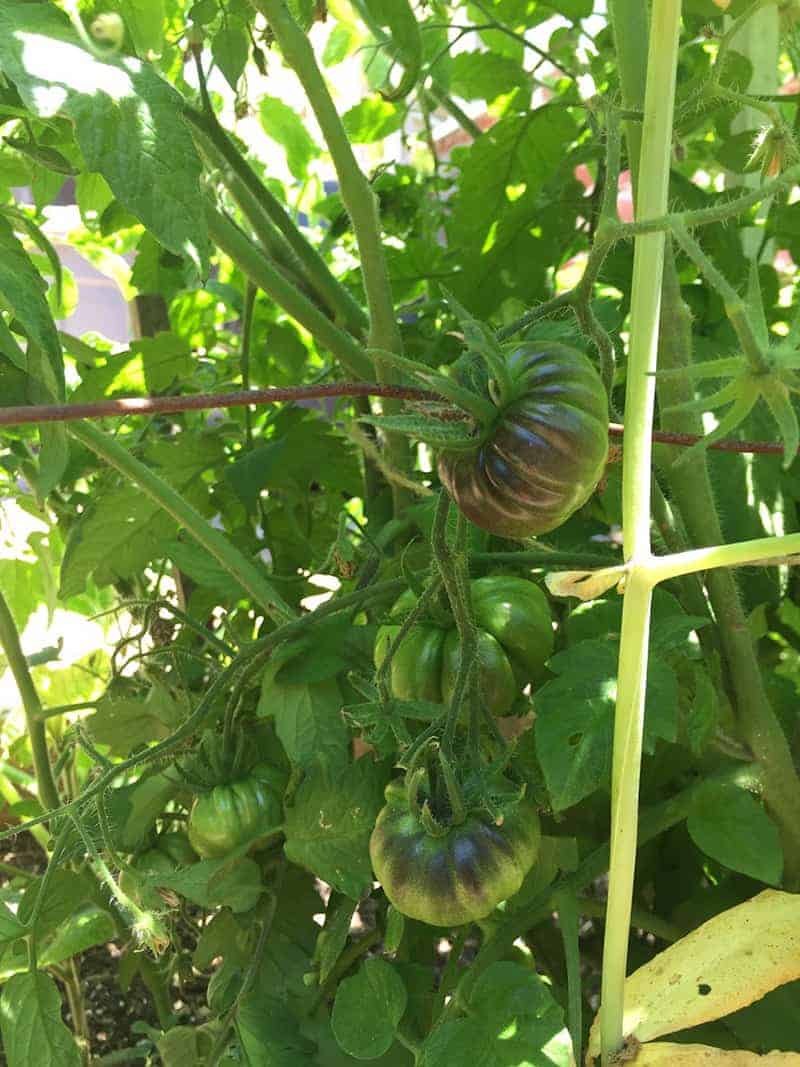 Credit to 305 Seahill
Growth Type: Cordon
Mature Height: 5 feet
This is believed to be the world's darkest colored tomato. It contains high levels of anthocyanin, which is also what gives blackberries and blueberries their color. The color of these tomatoes is dark blue-black, and they have a dark red inner flesh. They have an earthy flavor and are known to store well at room temperature, with a flavor that becomes more intense after harvesting.
8. Mr. Stripey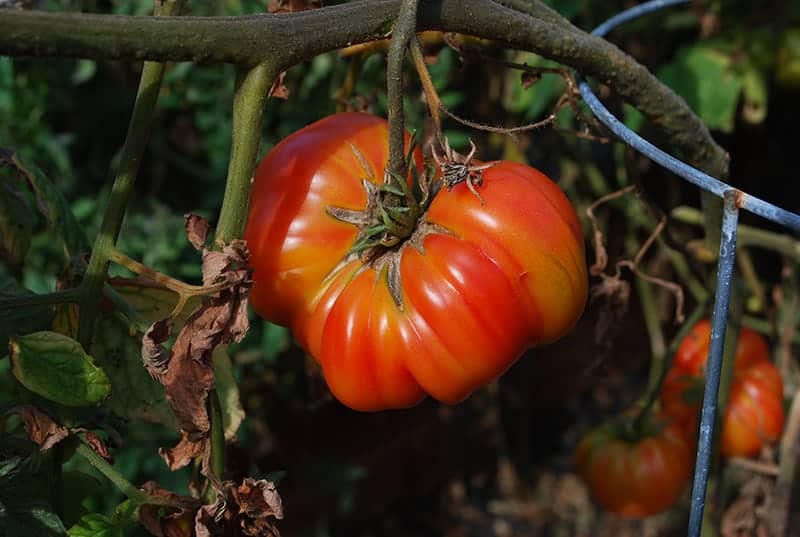 Credit to nick fullerton
Growth Type: Cordon
Mature Height: 9 feet
This tomato plant produces unusually small foliage and has fruits that are yellow near the stem and red near the base of the tomato. As the colors merge, they drip into each other in stripes, earning this plant its name. This is an heirloom variety with a mild and sweet taste. The tomatoes take 80 days to reach maturity.
9. German Pink
Growth Type: Cordon
Mature Height: 10 feet
This is a Bavarian variety of heirloom tomato that was introduced to the US in 1883. It takes around 85 days to reach maturity, producing sweet tasting tomatoes with rich pink skins. These fruits are almost seedless and are great sliced, canned, frozen, or cooked.
Salad Tomato
Salad tomatoes typically measure between two and three inches across. They tend to be some of the juiciest tomatoes and have plenty of seeds. These tomatoes have a mild and sweet flavor that is balanced out by their acid content. For these tomatoes, the clue is in their name: they are mostly used in salads but also work well sliced in sandwiches.
10. Moneymaker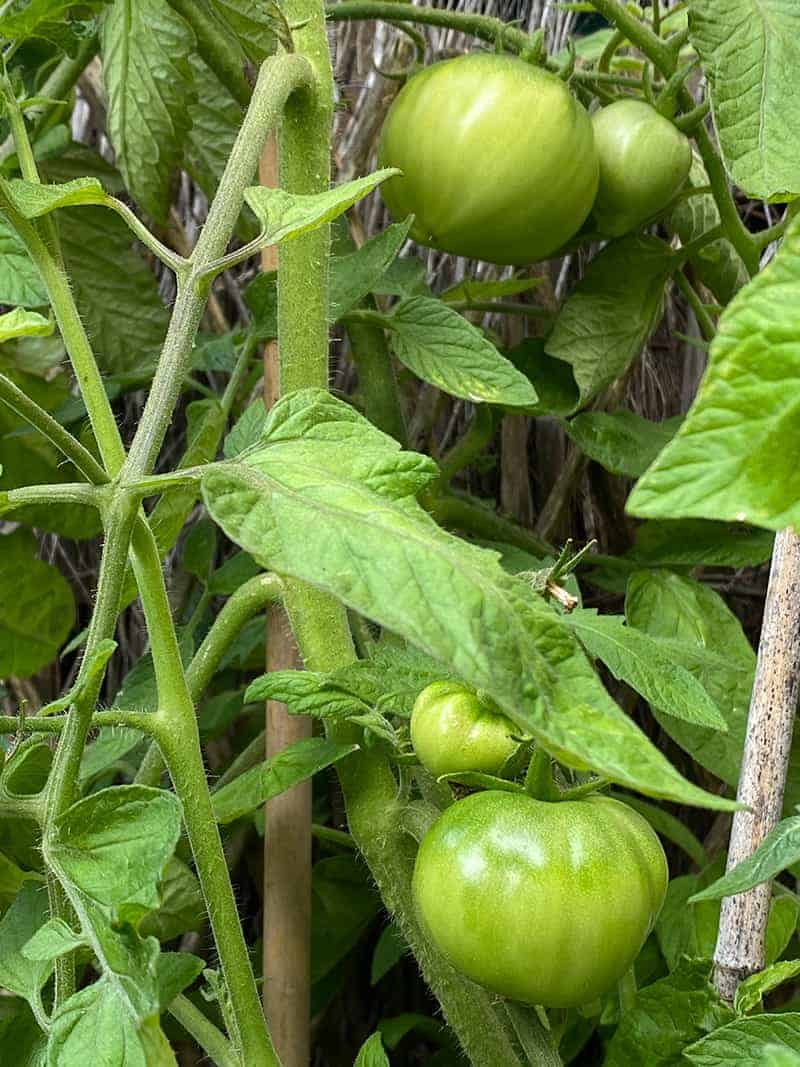 Growth Type: Cordon
Mature Height: 6 feet
This type of tomato plant dates back to 1913. It has been one of the most commonly cultivated tomatoes over the last century, especially in the UK, due to the fact that it reliably produces tomatoes even in less than ideal conditions. It isn't as popular as it used to be as better varieties have come to the forefront. This plant has average disease resistance and produces fruits that are sweet and mild tasting.
11. Ailsa Craig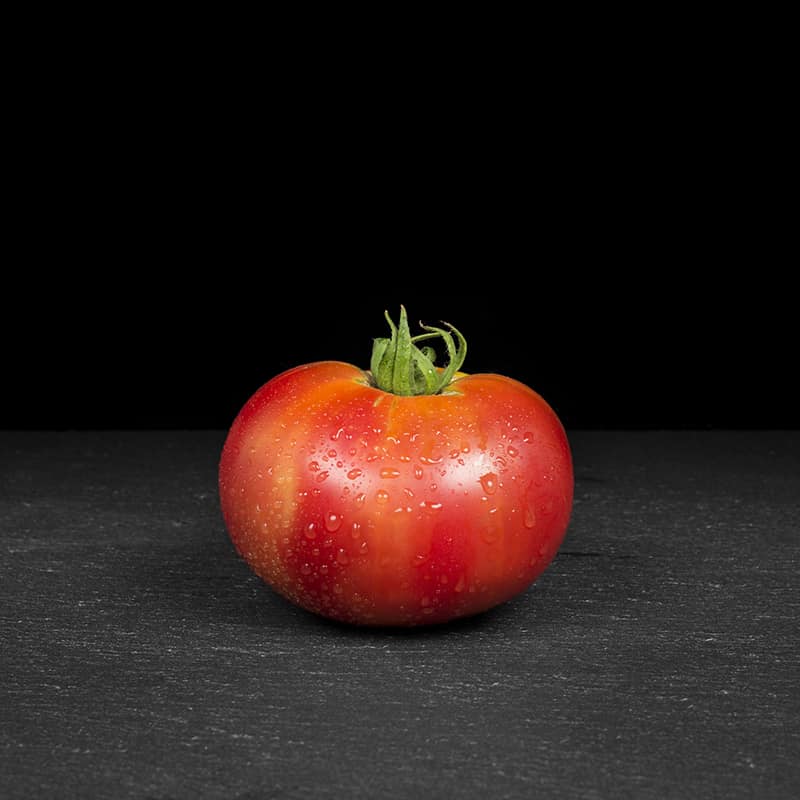 Growth Type: Cordon
Mature Height: 6 feet
This is known to be one of the best tasting salad tomatoes, with a perfect balance between sweetness and acidity, resulting in a depth of flavor. It is believed to have originated in Scotland, where it has been cultivated for over 100 years. This plant has received the Award of Garden Merit from the Royal Horticultural Society and is a vigorous grower.
12. Shirley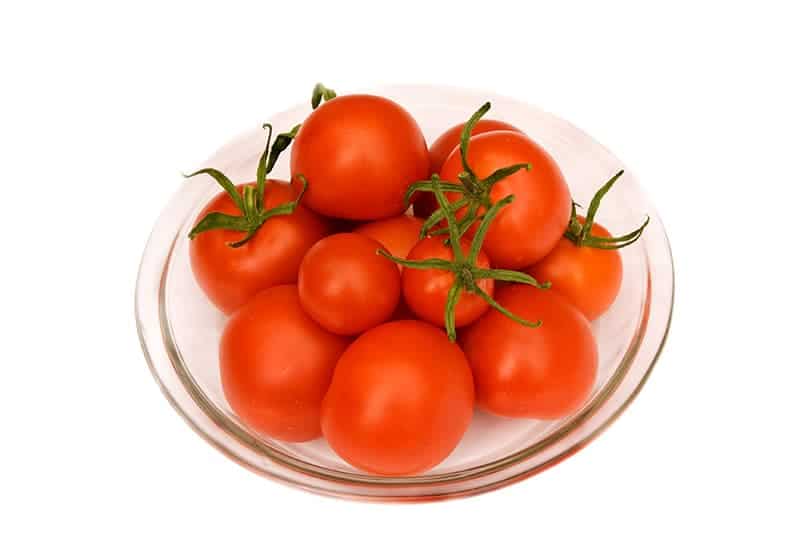 Growth Type:Bush Mature Height:3 feet
This hybrid tomato plant is fairly compact and ideal for smaller gardens or greenhouses. It grows reliably in cool conditions, producing a high yield of medium-sized sweet fruits. It has good resistance to disease.
13. Golden Sunrise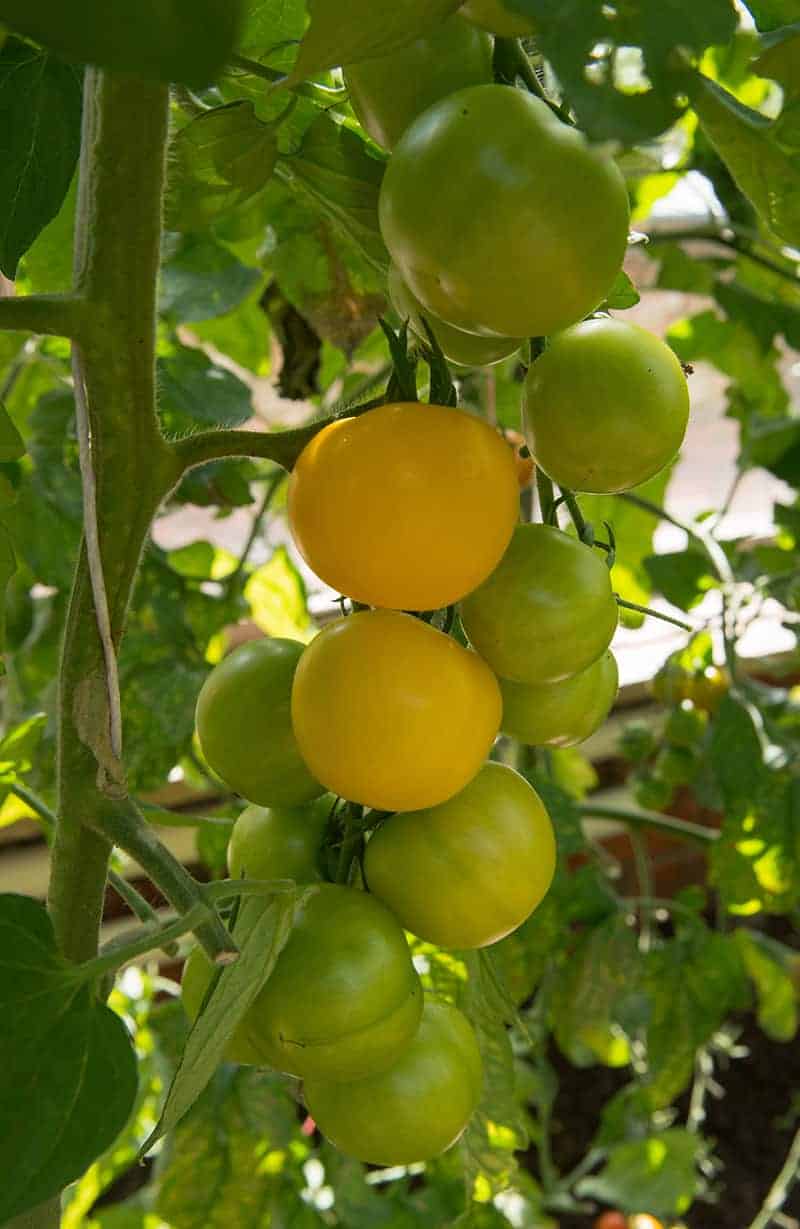 Growth Type: Cordon
Mature Height: 8 feet
This is an award-winning heirloom variety that produces golden-yellow tomatoes. They have a distinctly fresh and fruity flavor and add a welcome splash of color to salads and salsas. It takes 75 days to mature.
14. Alicante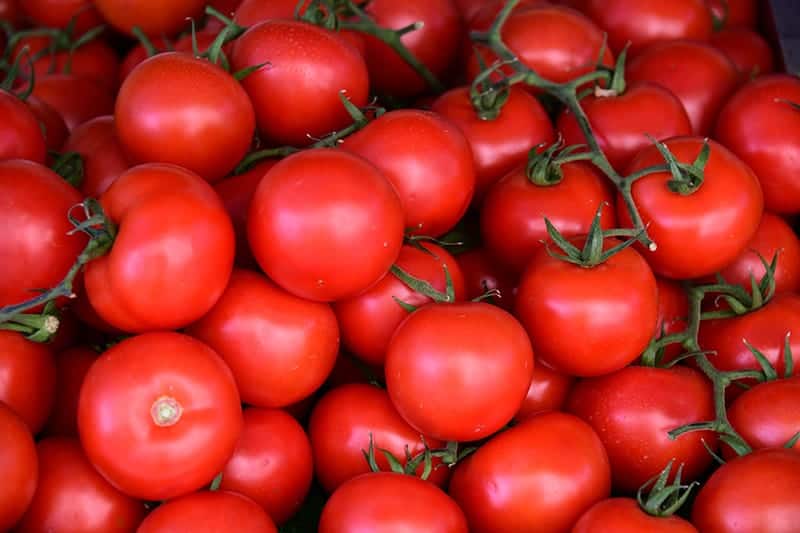 Growth Type: Cordon
Mature Height: 7 feet
This is a popular tomato plant, producing medium-sized juicy red tomatoes. It matures early and offers a long season of fruits, as well as being resistant to disease.
15. Early Girl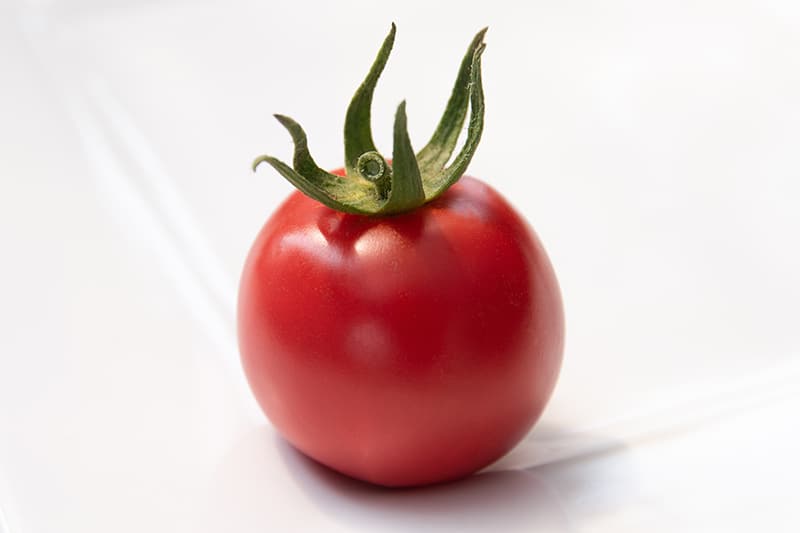 Growth Type: Cordon
Mature Height: 9 feet
This is a hybrid variety that was first introduced in the US and has become very popular, thanks to its early ripening fruits and its reliability to produce large yields. These tomatoes are a vibrant shade of red and have a good tomato flavor.
Plum Tomato
Plum tomatoes are most commonly cultivated to be canned or to produce tomato sauces. This is because they have denser flesh and fewer seeds than most other types of tomatoes, which makes them ideal for processing. Most have an oval shape, similar to an egg, though some have a more block-like shape or a cylindrical shape.
16. Roma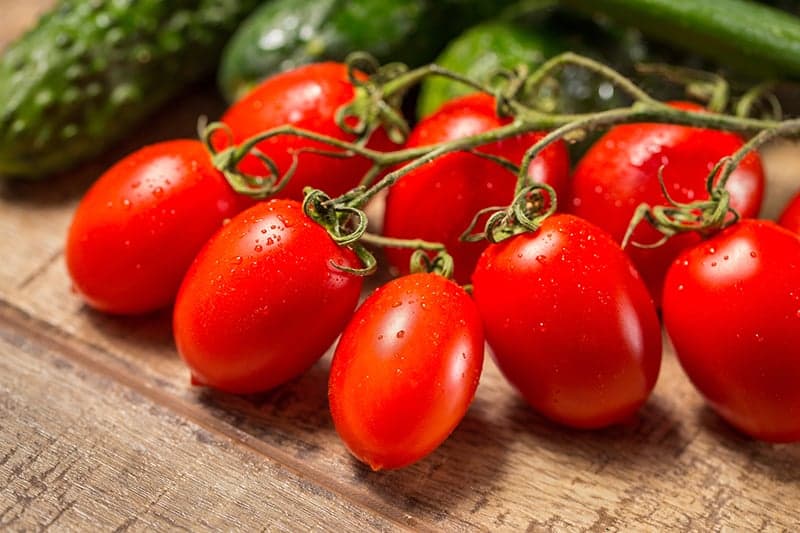 Growth Type: Bush
Mature Height: 3 feet
These tomatoes have firm flesh with few seeds and, when mature, are the shape of an egg. This is a hugely popular variety of tomato for canning and is probably the most commonly known type of plum tomato. When sold fresh, supermarkets sometimes label these tomatoes as 'Italian Plum Tomatoes.' They produce heavy yields of fruits and mature in 75 days.
17. Incas
Growth Type: Bush
Mature Height: 3 feet
This hybrid tomato plant is resistant to common diseases such as fusarium and wilt. It produces large plum tomatoes that are perfect for slicing or stuffing. These bright red tomatoes have a firm texture and are typically ready to harvest from late June.
18. Astro Ibrido
Growth Type: Bush
Mature Height: 3 feet
This is a San Marzano tomato that produces vibrant red fruits with low water content. They are popularly used for making sauces, or in canned tomatoes and passatas. These plants have good disease resistance and are small enough to grow well in containers.
19. Rio Grande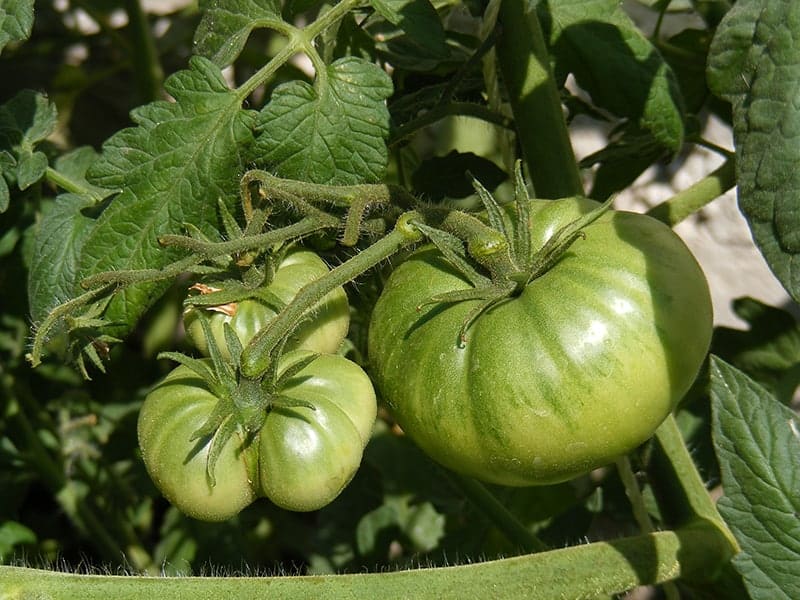 Growth Type: Bush
Mature Height: 3 feet
This plant is known for producing heavy crops of tomatoes, which are shaped like chunky pears. They have a firm and meaty flesh, which works well in cooking, especially sauces. These tomato plants have good resistance to disease.
20. German Lunchbox
Growth Type: Bush
Mature Height: 3 feet
This is an heirloom variety that was brought to the US through German immigrants and is a small size perfect for putting in a lunchbox, hence the name of 'German Lunchbox.' It has a sweet flavor and a bright pink-red skin. It takes between 70 and 80 days to mature.
21. Granadero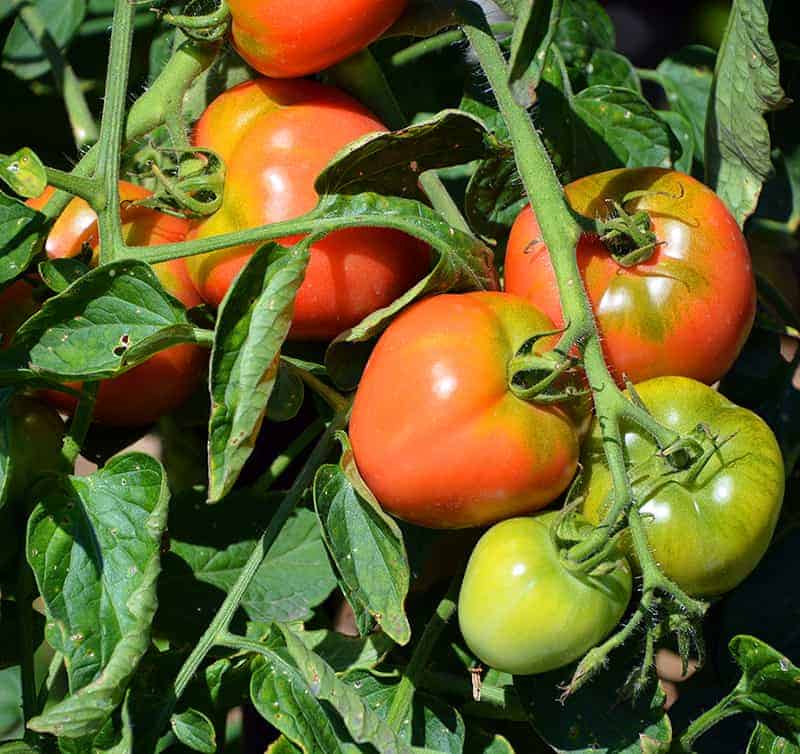 Growth Type: Bush
Mature Height: 3 feet
This plum tomato has an incredible resistance to disease. It is known to be a vigorous grower yet maintains a compact size, so it is suitable for container growth or in a smaller vegetable plot. It is also more tolerant of cool conditions than many other varieties and reliably produces large yields.
22. San Marzano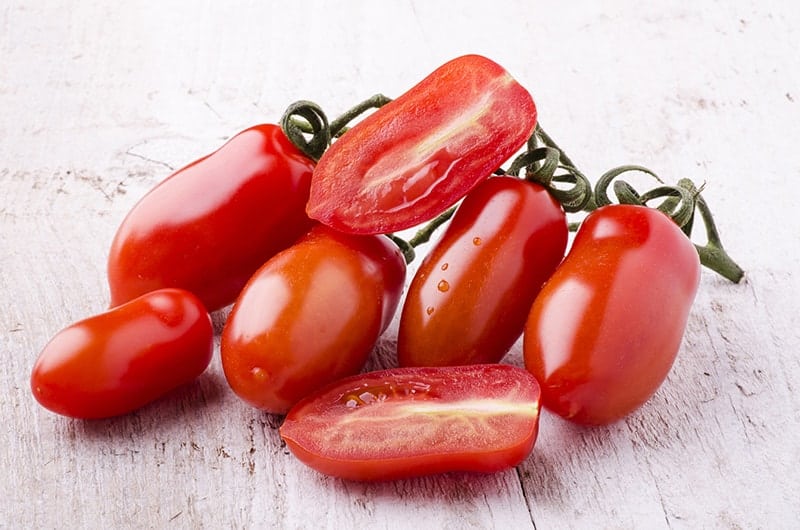 Growth Type: Cordon
Mature Height: 5 feet
This plum tomato is an heirloom variety that originates from a town near Naples in Italy. The fruit has a long and narrow shape. Its flesh is thick and meaty and contains few seeds. It is popularly used to make tomato sauces and pastes.
23. Juliet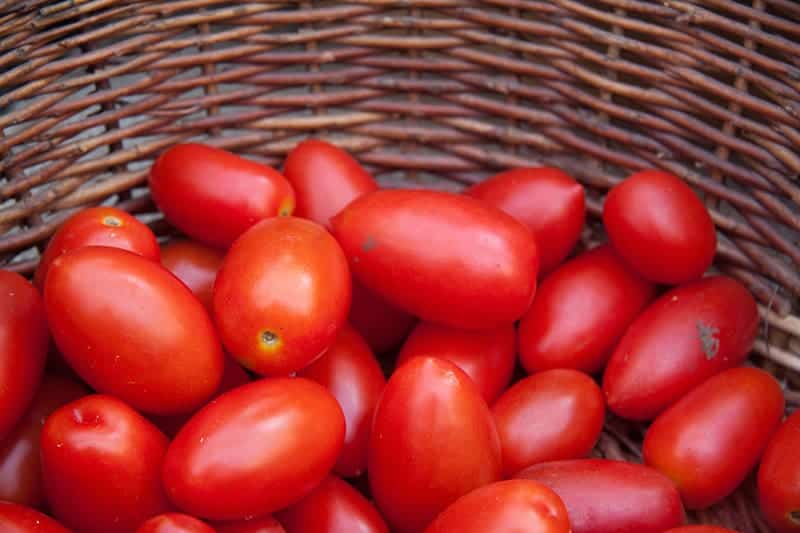 Credit to Tim Sackton
Growth Type: Cordon
Mature Height: 8 feet
This tomato can be categorized under plum tomatoes as it is often considered as a baby roma tomato, but it sometimes also falls into the category of grape tomatoes. It produces small and sweet fruits that stay on their vine for a long time after harvesting. They mature at around 60 days.
Cherry Tomato
These are small tomatoes that have a sweet flavor. They are incredibly versatile and can be used in salads, sauces, pastas, casseroles, or eaten as a raw snack. They come in a wide variety of colors and can add a vibrant splash to a range of dishes. They can be round or oval in shape and are the smallest type of tomatoes.
24. Ildi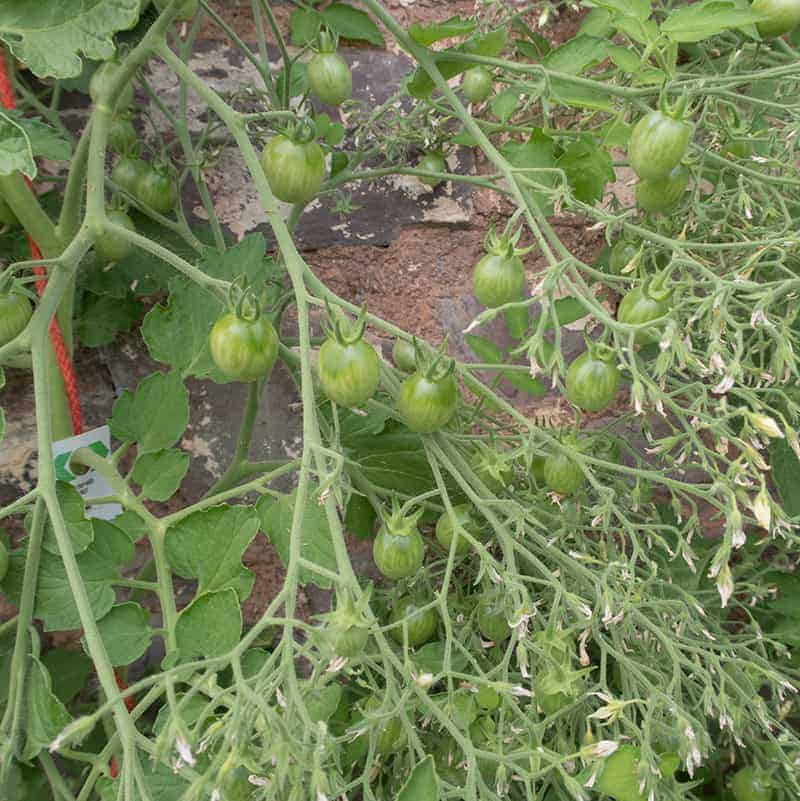 Growth Type: Cordon
Mature Height: 6 feet
This plant produces golden-yellow tomatoes that are a small plum shape. They look vibrant in salads or cooked in pasta dishes. Each truss will produce around 80 tomatoes, and they work well in containers or hanging baskets.
25. Super Sweet 100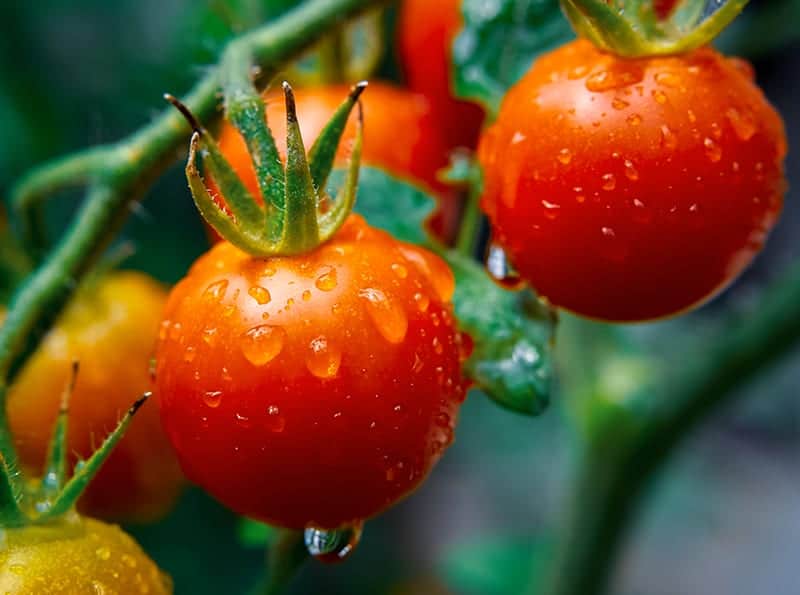 Growth Type: Cordon
Mature Height: 6 feet
This is one of the earliest varieties of cherry tomato to fruit, giving you a long season of delicious tomatoes to add to salads or picnics. These fruits are small and round in a glossy shade of deep red.
26. Red Alert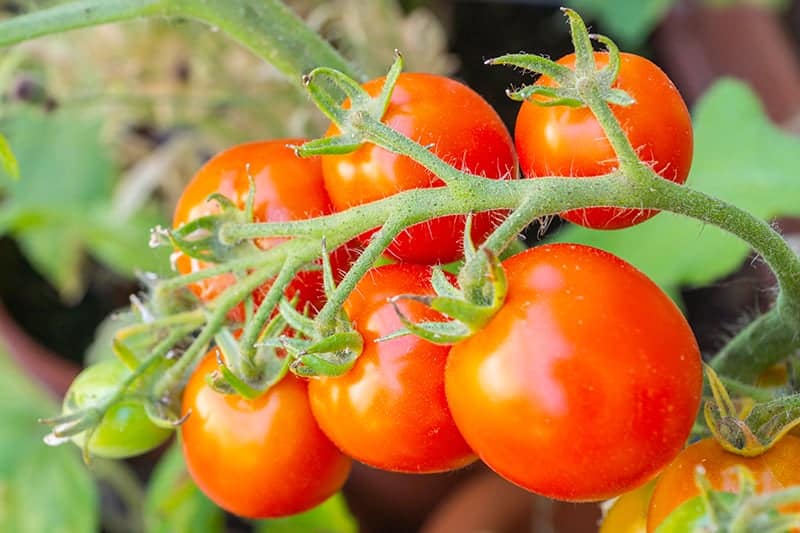 Growth Type: Bush
Mature Height: 3 feet
This tomato plant is easy to grow, with a vigorous yet compact habit. It is ideal for growing in patio containers or in beds and requires no support or pruning. It produces red, round, juicy cherry tomatoes and matures early.
27. Sungold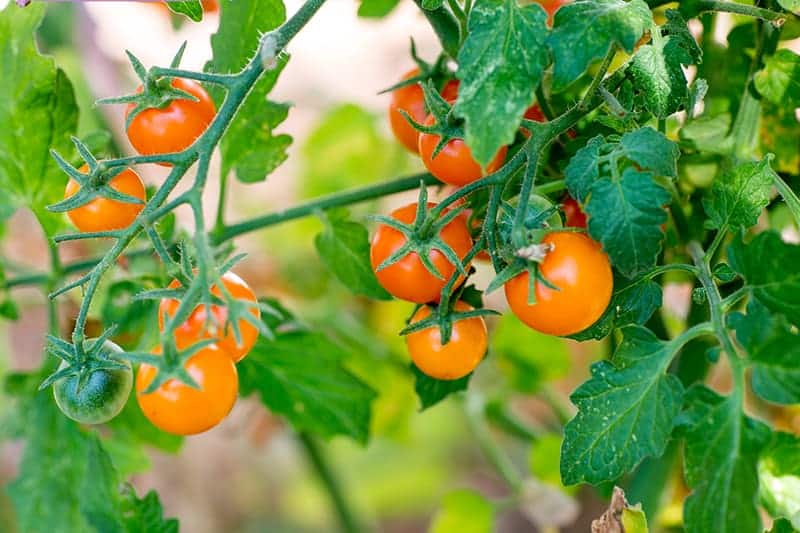 Growth Type: Cordon
Mature Height: 6 feet
These tomatoes have an appealing orange color and an irresistibly sweet taste. They have a high sugar content that makes them great for snacking on or adding to lunchboxes. This is the most popular type of golden-colored tomato among home growers and was voted to be 'the sweetest tomato' by gardeners.
28. Gardeners' Delight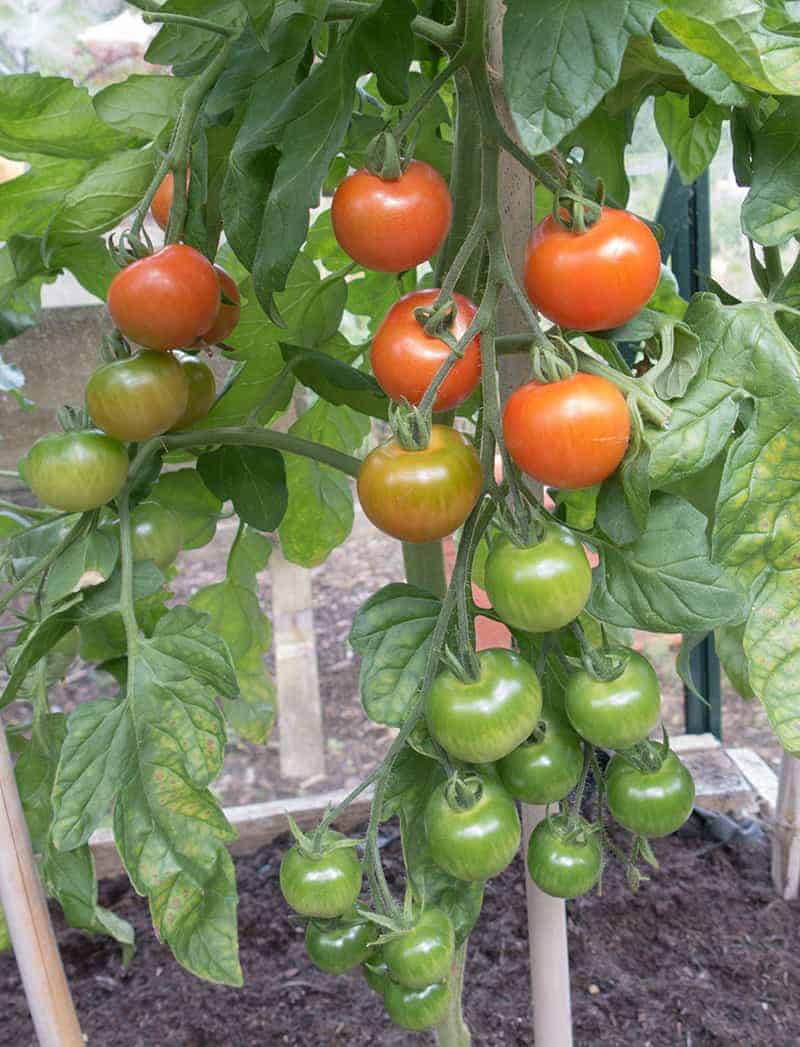 Growth Type: Cordon
Mature Height: 8 feet
This award-winning tomato is one of the most commonly grown plants of all types of tomato. It grows easily and reliably produces delicious, glossy red fruits. It also adapts well to a wide range of soil and growing conditions. It produces heavy yields of tomatoes that are good for eating raw or for use in cooked dishes.
29. Tumbling Tom
Growth Type: Bush
Mature Height: 1 foot
This is a compact plant with an expected height and spread of just one foot in each direction. This is a trailing plant that is best grown in a hanging basket or tumbling out of a window box. The plant does not need any support or pruning, therefore it is easy to grow and ideal for those with limited growing space.
30. Micro Tom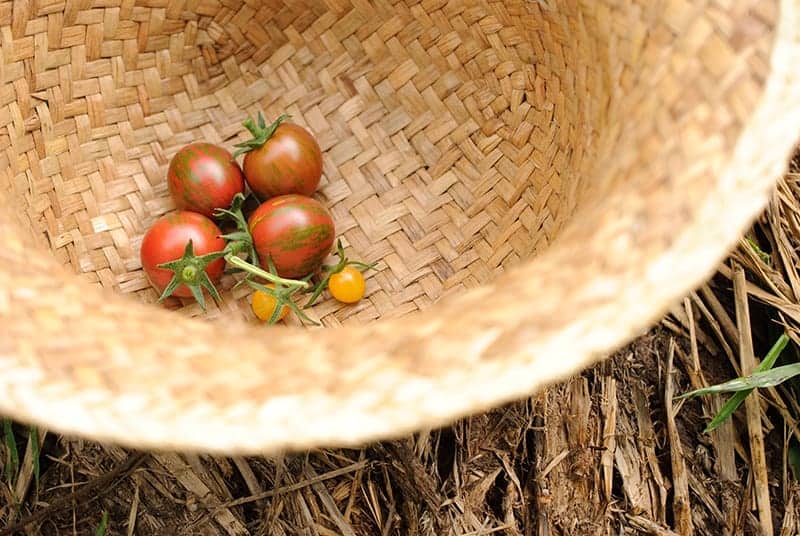 Growth Type: Bush
Mature Height: 3 inches
This plant was developed by the University of Florida and was released in 1989. It is known to be the smallest tomato plant in the world, perfect for small containers and children's vegetable plots. It produces tiny tomatoes that have an average tomato flavor.
31. Black Cherry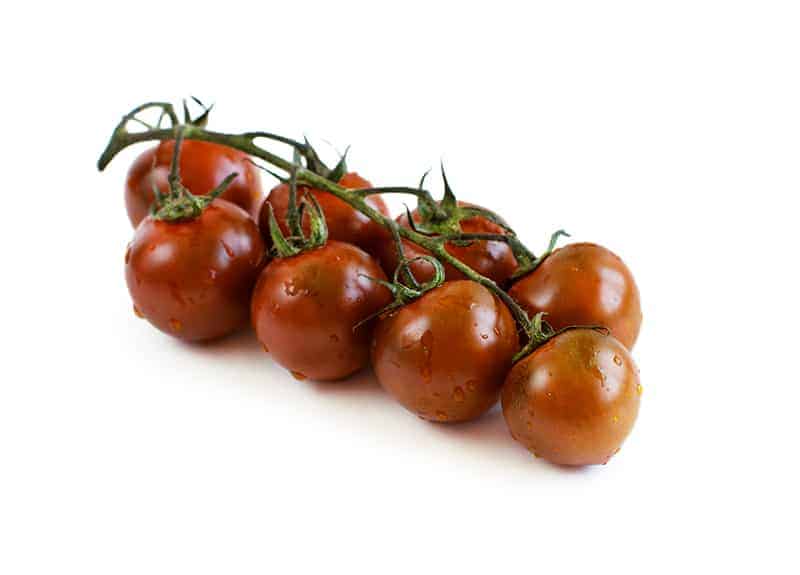 Growth Type: Cordon
This is the only black variety of cherry tomato available, and it is considered to be quite rare. These tomatoes have dark purple-red skin that looks black in some lights. Fruits are perfectly round and measure an inch across. They have a sweet and rich flavor, maturing in 65 days.
Cocktail Tomato
Cocktail tomatoes have a sweet and fruity taste. They are ideal for salads, but they also work well under heat, so they are great grilled or used to make tomato sauces.
32. Adoration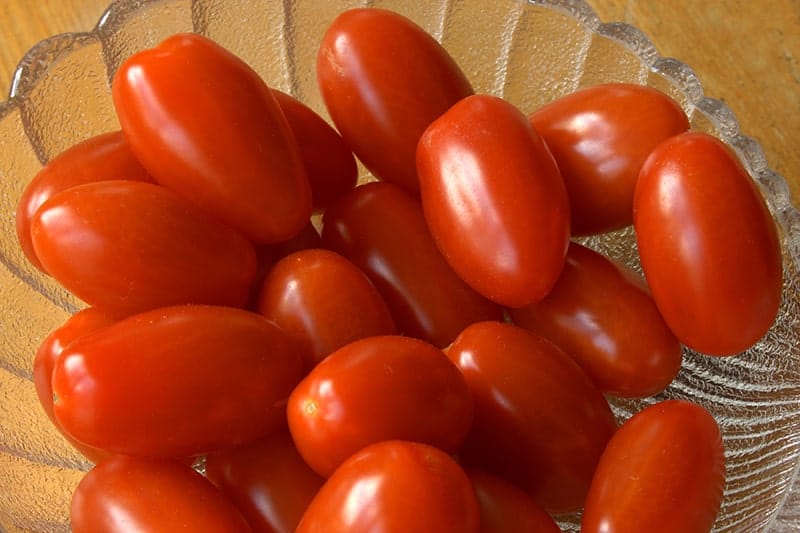 Growth Type: Cordon
Mature Height: 5 feet
This is a hybrid variety that produces spherical, red, cocktail tomatoes. The plant has a good resistance to disease and fruits mature in 70 to 80 days.
33. Campari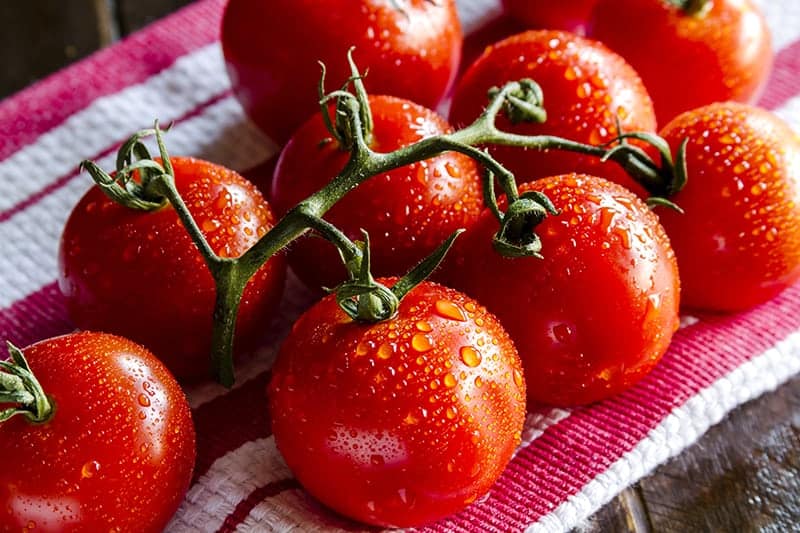 Growth Type: Cordon
Mature Height: 8 feet
This is the type of tomato you will probably take home from the grocery store if you buy 'tomatoes on the vine.' These tomatoes are medium in size, being smaller than plum tomatoes but larger than cherry tomatoes. They are particularly juicy and contain high levels of sugar.
Pear Tomato
Pear tomatoes are also known as teardrop tomatoes, as they are shaped like a pear or a falling tear. They work best in salads or for snacking on, and they come in a number of different shades that can add color to your dishes. They are believed to have originated in Europe in the early 19th century and were soon brought to North America.
34. Yellow Pear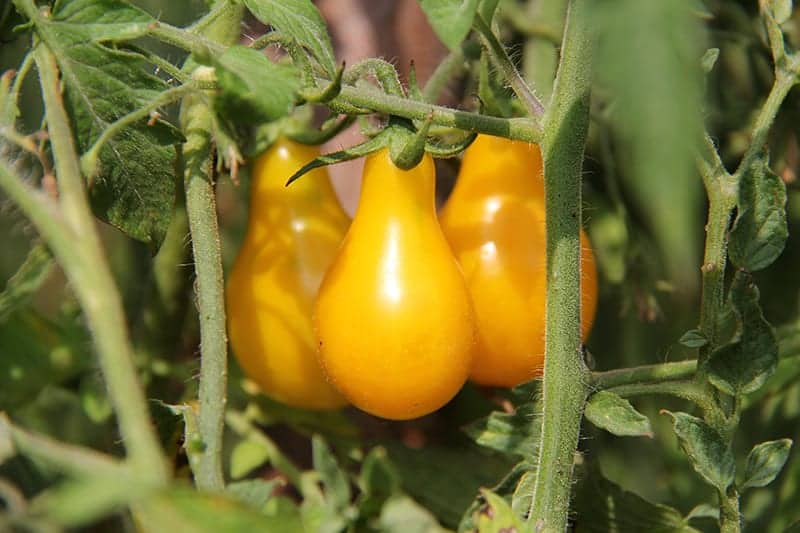 Growth Type: Cordon
Mature Height: 6 feet
These small tomatoes have firmer flesh and less water content than cherry tomatoes that are a similar size, making them less likely to squirt you with juice when they are bitten or cut into. They are a deep to bright yellow color and have a delicious low-acid flavor.
35. Chocolate Pear
Growth Type: Cordon
Mature Height: 6 feet
These small tomatoes have a burgundy or brownish-green colored skin. They have a rich flavor and mature in 65 to 80 days. These fruits are popular for eating in salads and also work well in sauces.
36. Dad's Sunset
Growth Type: Cordon
Mature Height: 6 feet
This plant produces vivid orange-colored tomatoes that are small to medium in size and perfectly round. They are an heirloom variety with a slightly tart, yet sweet taste.
Compare Similar Products