Home >
Best College Campuses for Trees
Best College Campuses for Trees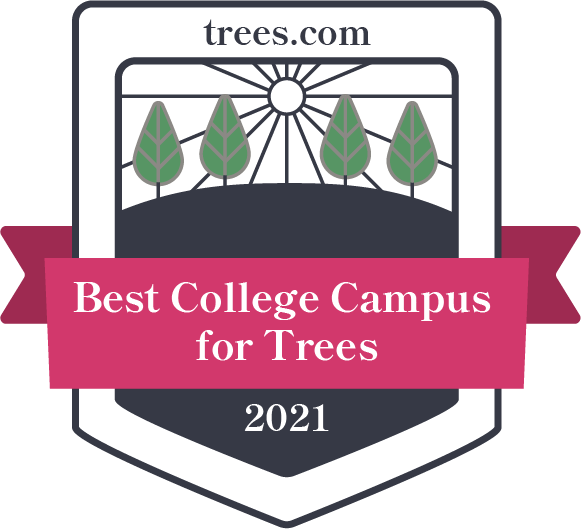 Among the many images that come to mind when we picture college life, one of the most indelible is a lush, tree-lined campus with colorful leaves rustling overhead in the breeze.
Colleges pride themselves on their collections of trees and other flora, boasting arboretums, gardens, walking trails and other spaces that provide both learning and relaxation opportunities to students and faculty. Sustainability initiatives help campuses preserve their existing trees, and plant new trees for future generations to enjoy, while teaching students about the importance of conservation efforts.
This year, in honor of National Arbor Day, Trees.com is recognizing the most tree-friendly colleges and universities in the U.S., in terms of sustainability, beauty and variety.
The Best College Campuses for Trees in Every State
---
University of Alabama in Huntsville
Huntsville, Alabama
As a school known for its technology-focused programs, the University of Alabama in Huntsville's best-kept secret might be its natural beauty. From the University Greenway to the UAH Community Garden, the school's 505-acre campus is dotted with trees, many of which have been planted as part of the school's sustainability efforts. Those who walk or drive along John Wright Drive, which circles the campus, are treated to 20 maple trees that were planted in 2017.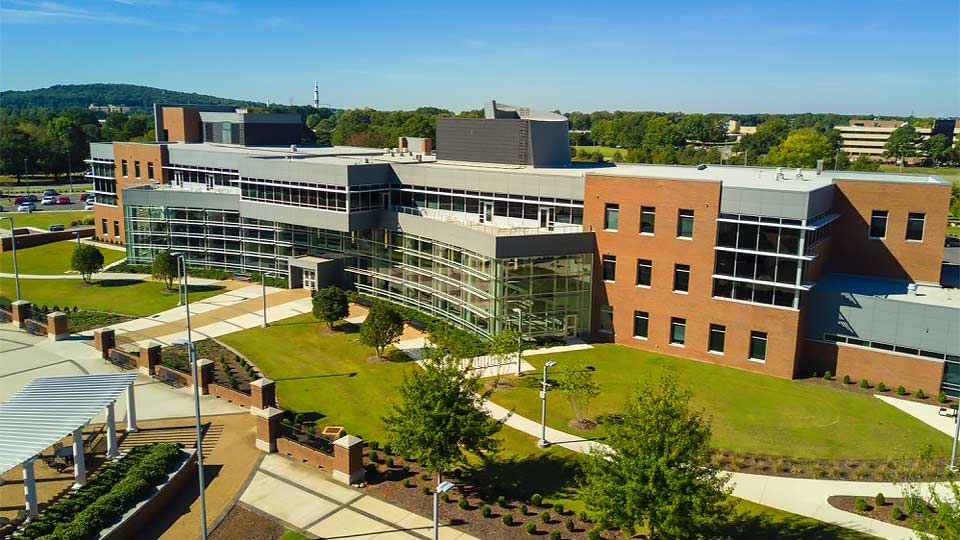 Source: uah.edu
---
University of Alaska Fairbanks
Fairbanks, Alaska
While the University of Alaska Fairbanks may be snowbound for much of the school year, when it's not awash in the white stuff, the many trees on campus create a vibrant canopy of green, gold, and red. Located in the heart of Alaska, this 2,250-acre campus boasts two lakes and miles of trails that allow students, staff and visitors to get up close to the great outdoors, and all the trees it has to offer.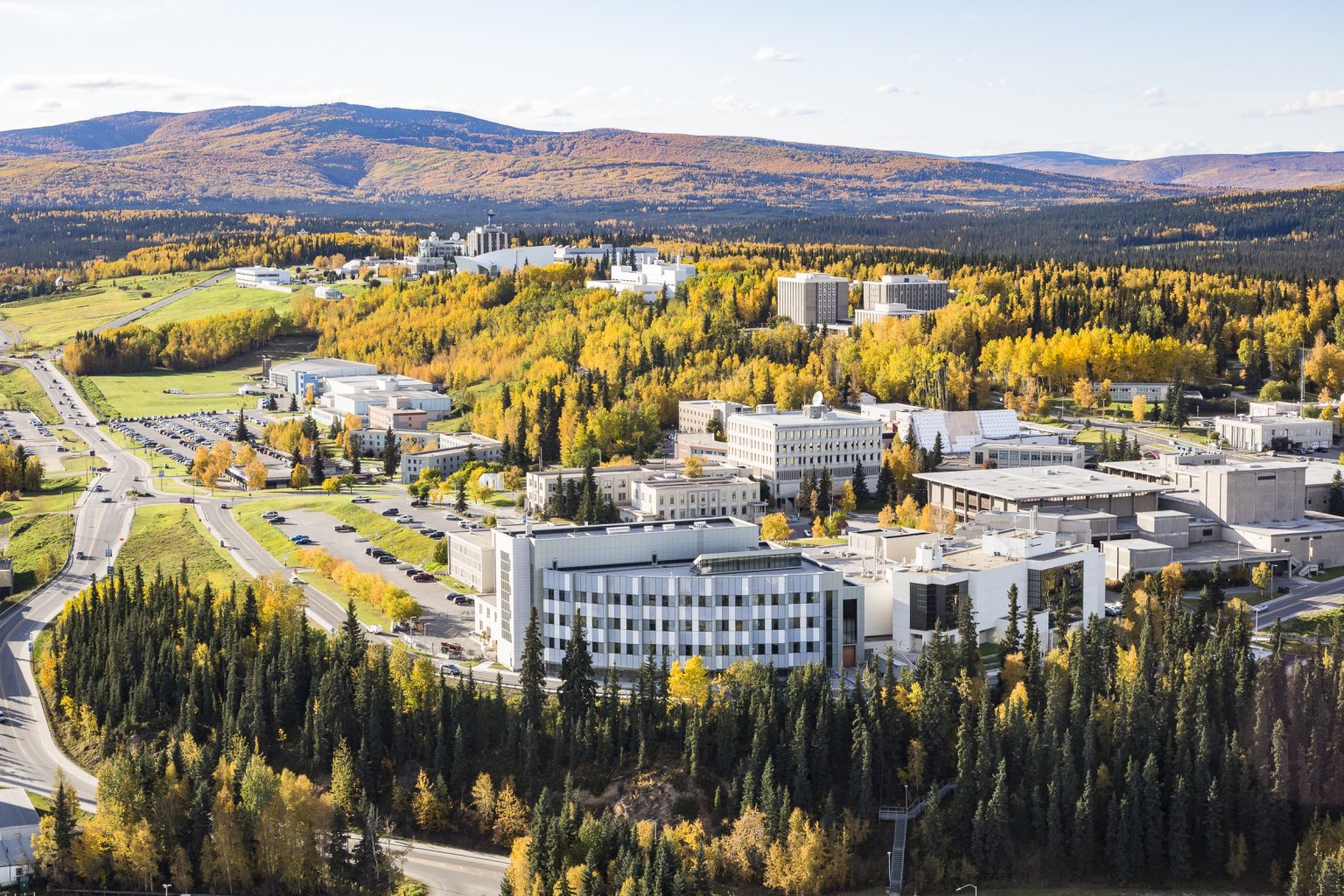 Source: alaskapublic.org
---
Maricopa Community College
Tempe, Arizona
With nearly 100 different species of trees and 80 species of cacti and succulents, the Mesa Community College Arboretum is a desert paradise ready for exploration. The arboretum, which is part of the Maricopa Community College system, is the only accredited arboretum in Arizona. Their collection includes an array of native species, like Ironwood, Velvet Mesquite, and Blue Palo Verde, as well as imported varieties like Chinese Elm, Indian Rosewood, and Afghan Pine.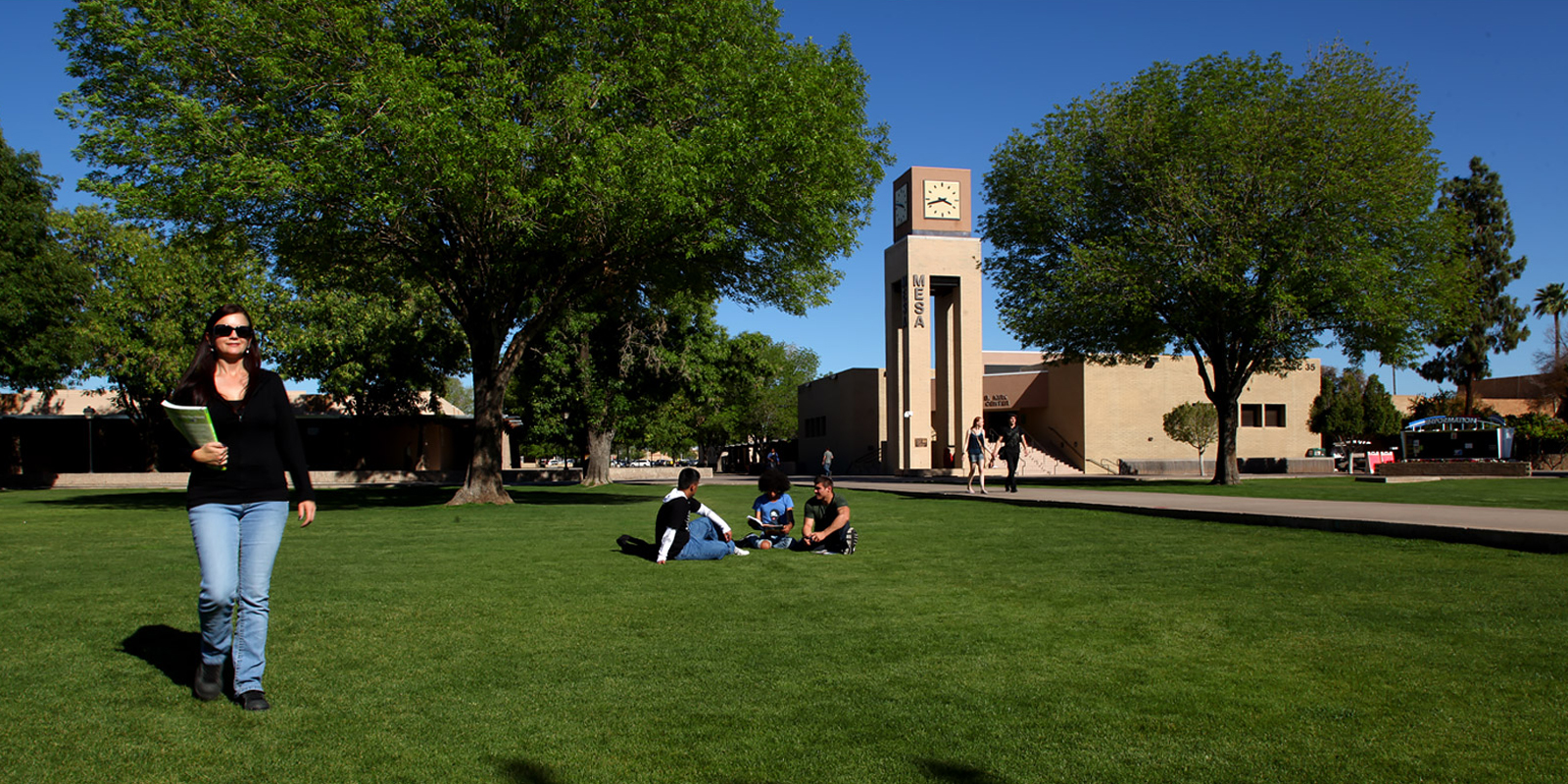 Source: azcentral.com
---
University of Arkansas – Fort Smith
Fort Smith, Arkansas
Visitors and members of the University of Arkansas Fort Smith community alike can enjoy over 60 different species of trees spread throughout the school's 170-acre campus in northwestern Arkansas. The school's arboretum maintains the trees, which include loblolly pines, American elms, Japanese cherry blossoms, Eastern redbuds, and more.
Source: uafs.edu
---
Biola University
La Mirada, California
At Biola University in Southern California, form meets function with orchards and gardens that support the university's sustainability efforts while creating an idyllic, tree-lined atmosphere for all to enjoy. Of particular note are the Biola Food Forest Orchard, which boasts various types of citrus trees as well as avocado trees, which provide fruit for the campus community, and Olive Grove Park, a historical section of campus that pays homage to the area's past as a leading producer of olive oil.
Source: biola.edu
---
California State University, Stanislaus
Turlock, California
With over 3,500 trees on its 228-acre campus, checking out every tree on the California State University, Stanislaus campus may seem like a daunting task. However, in 2018, geography student German Silva set out to make it a little more manageable, creating an interactive tree map that provides details on each of the nearly 100 species of trees dotting the campus, including native species like the California sycamore, California black oak, and California buckeye.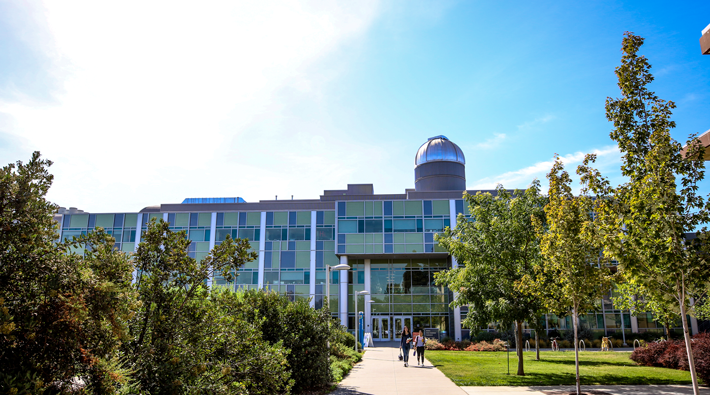 Source: csustan.edu
---
Humboldt State University
Arcata, California
Tree enthusiasts looking for a unique experience should visit Humboldt State University in northern California. This campus boasts the tallest tree on any college campus in the world, a 240-foot Sitka Spruce, as well as "moon trees," redwoods planted from seeds that orbited the moon in the Apollo 14 lunar module. The school's L.W. Schatz Demonstration Tree Farm, located about 45 minutes from the main campus, is a living laboratory where forestry students study trees and learn sustainability skills to ensure that trees are available for people to enjoy for years to come.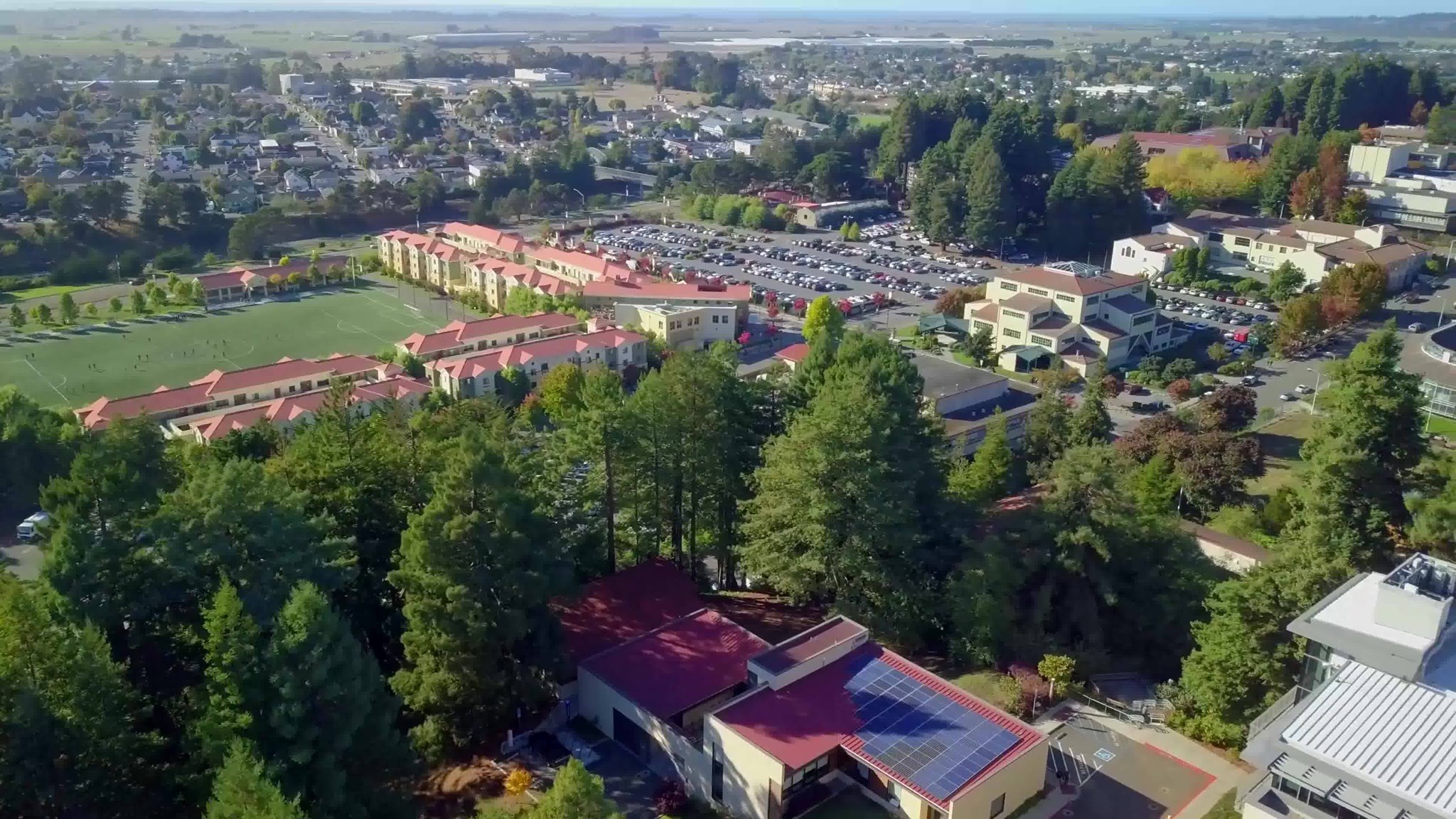 Source: housing.humboldt.edu
---
University of Denver
Denver, Colorado
The Chester M. Alter Arboretum at the University of Denver is home to roughly 2,100 trees, including several Champion and Notable trees. These trees are of particular interest because they represent some of the largest or oldest trees of their species in Colorado, and include species such as Cedar of Lebanon, Trident Maple, Yellow Buckeye, and the Lady Bird Johnson Pin Oak, planted by the former First Lady herself.
Source: du.edu
---
University of Bridgeport
Bridgeport, Connecticut
At the University of Bridgeport, trees aren't just ornamental – they're educational. The university is home to a medicinal garden stocked with trees, flowers, herbs and more that are used by the College of Naturopathic Medicine, a health sciences degree program that focuses on plant-based holistic care. Students learn how to use materials from the trees, such as bark, fruit, and flowers, to treat a range of physical ailments. Among the notable trees in the UB medicinal garden are a Ziziphus Jujuba, a Sabal Palm, and a Medlar.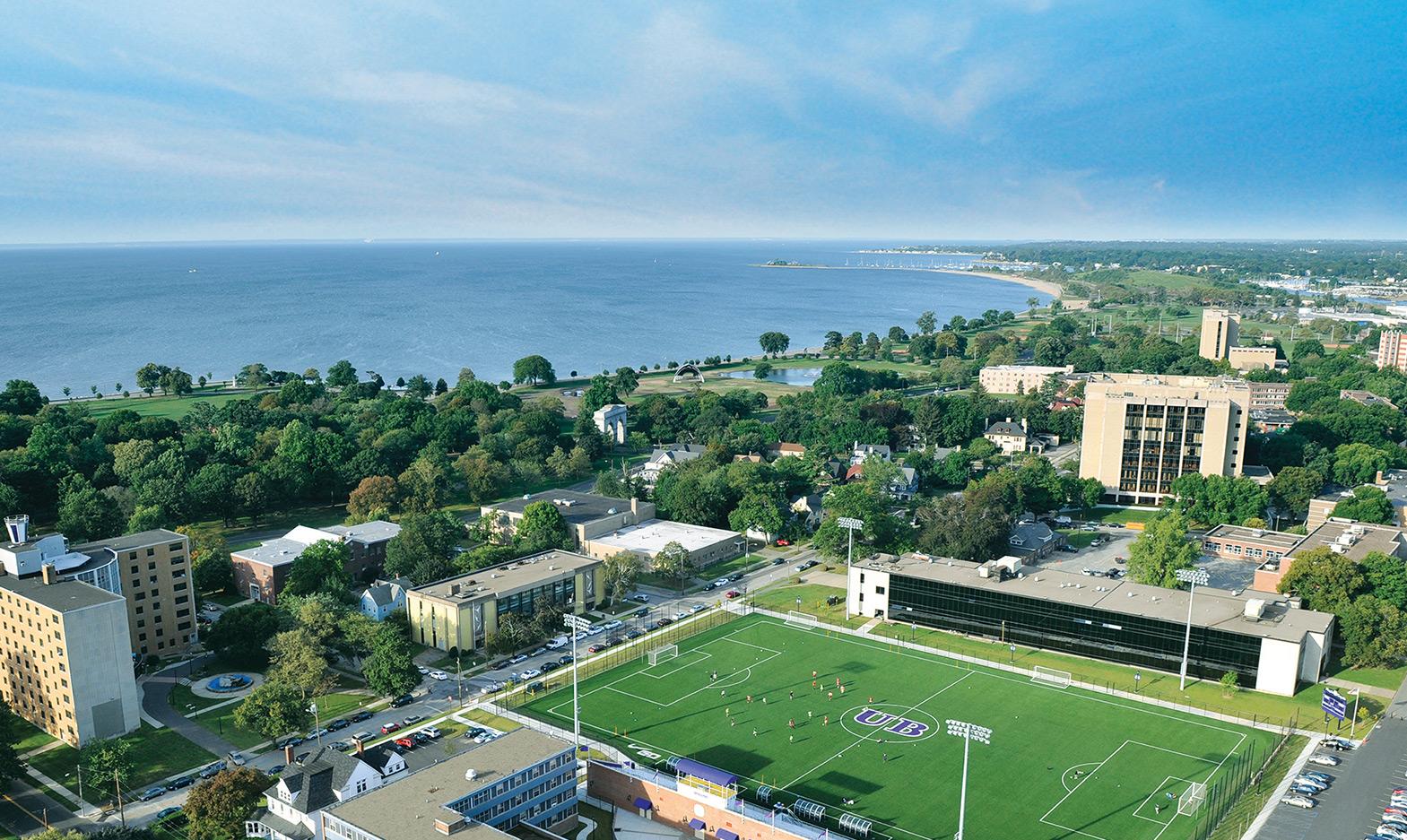 Source: bridgeport.edu
---
University of Delaware
Newark, Delaware
With over 3,000 varieties of trees, shrubs, and plants, the University of Delaware Botanic Gardens is a classroom like no other. Officially designated in 1992, the Botanic Gardens are a place where students can study botany, biology, entomology, plant pathology, and more in different environments. The Boreal Forest boasts coniferous and deciduous trees indiginous to the Eastern United States, while the Wetlands features trees more acclimated to wet environs, like the River Birch.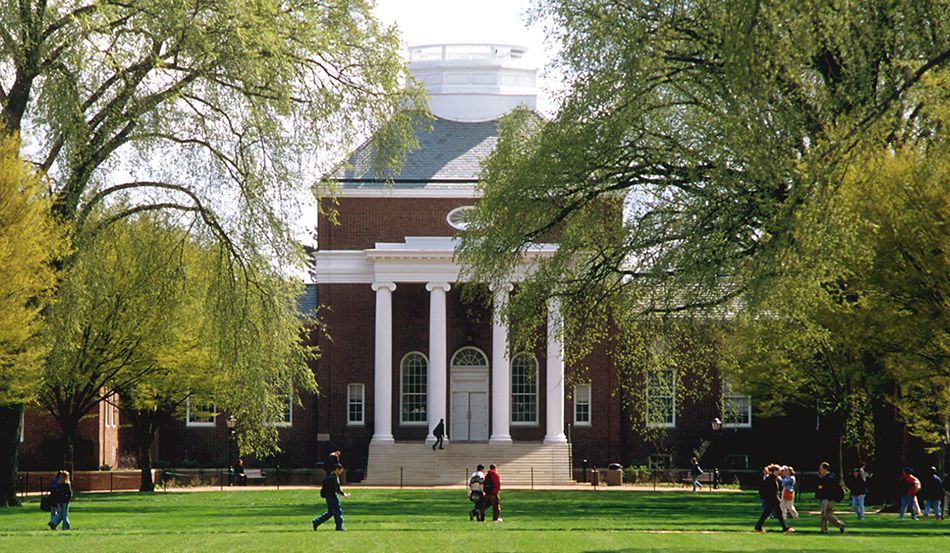 Source: udel.edu
---
Florida Atlantic University
Boca Raton, Florida
Florida's unique ecosystems are on full display at Florida Atlantic University's Robert J. Huckshorn Arboretum, located on the school's Jupiter campus. Designed by FAU's Center for Environmental Studies, the one-acre arboretum features several different types of temperate and tropical ecosystems, including pine flatwoods, mixed hardwood swamp, and tropical hardwood hammock, as well as a butterfly garden and gazebo.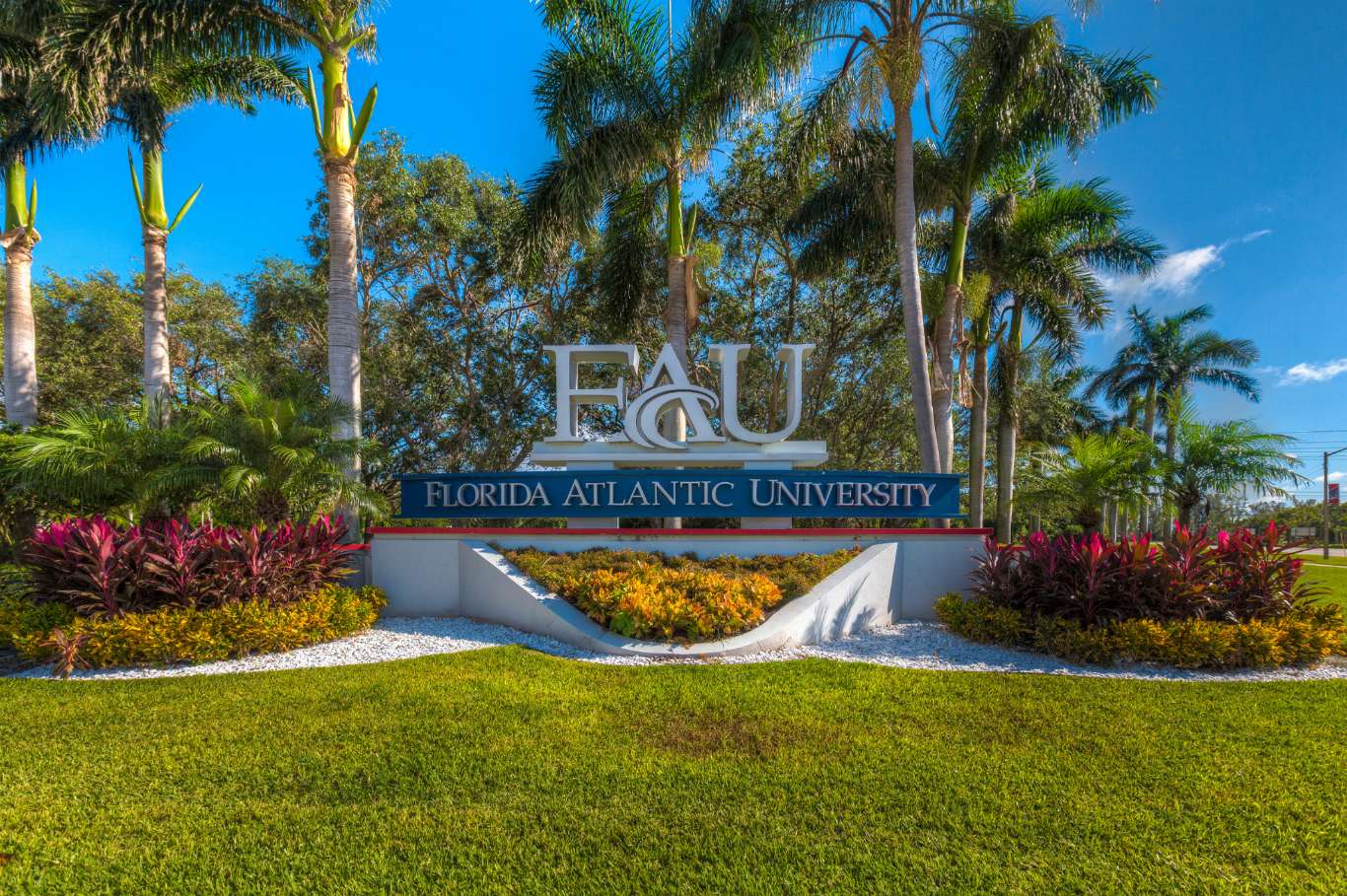 Source: fau.edu
---
Georgia Southern University
Statesboro, Georgia
Mentioning a Southern college likely conjures visions of moss-covered oaks and cypresses swaying in the breeze. In this respect, Georgia Southern University does not disappoint. The university's 900-acre main campus in central Georgia is home to a botanical garden featuring woodland trails stocked with native species like Magnolia, Long-Leaf Pine, and Sassafras. The Georgia Southern University Botanic Garden offers students, staff, and visitors the opportunity to explore the trees and other flora of the unique coastal plains environment.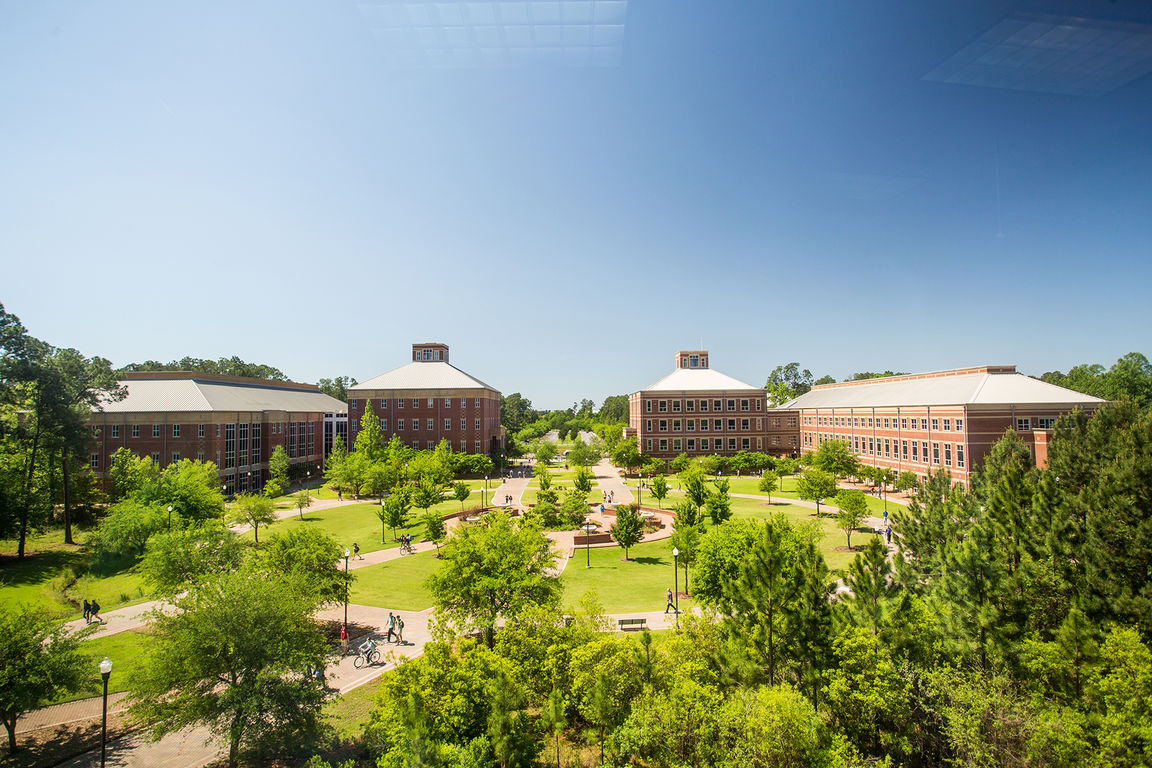 Source: digitalcommons.georgiasouthern.edu
---
Punahou School
Honolulu, Hawaii
Since the Punahou School was founded in 1842, one thing has been constant – the presence of a tamarind tree planted from a seedling that was descended from trees first brought to the island nation in the 18th century. Another notable tree on Punahou's campus is the Barwick Banyan, which provides shade for a nearby playground. These are just two of the many lovely trees gracing the school's 76-acre campus in Oahu.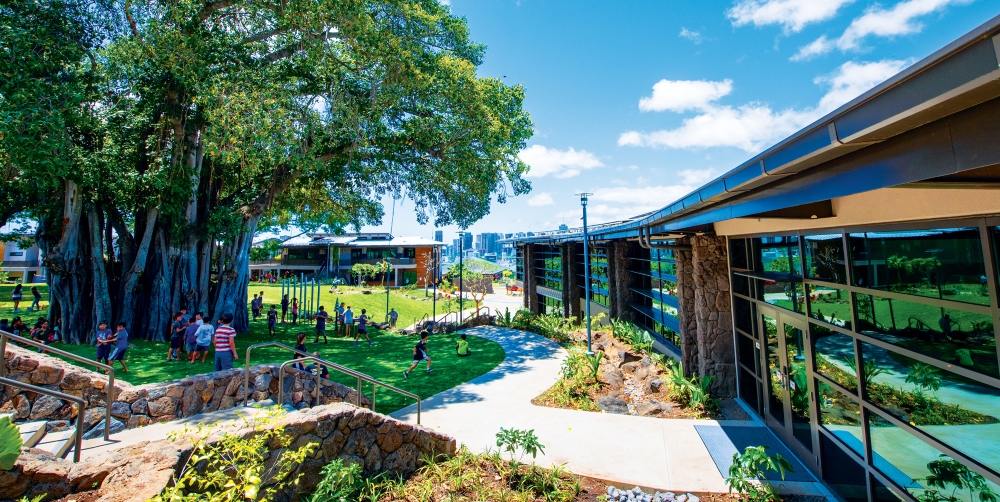 Source: punahou.edu
---
University of Idaho
Moscow, Idaho
Founded in the early 1980s, the University of Idaho Arboretum transformed an undeveloped and treeless section of campus into a 63-acre landscape celebrating the diversity of flora from around the world. Their collections include rare and unusual trees like the Dawn Redwood, Giant Sequoia, and 'Camperdownii' Weeping Elms. Thanks to the arboretum's layout according to geographic region, visitors and members of the UI community can enjoy beautiful blooming trees at nearly any time of year.

Source: lib.uidaho.edu
---
Northern Illinois University
DeKalb, Illinois
While Northern Illinois University's 800-acre campus is lined with trees and other flora, the institution earned a place on our list for its Memorial Garden. Designed to be a peaceful respite for students, staff and faculty, the Memorial Garden features towering Dawn Redwoods and White Oaks, the state tree of Illinois. Members of the NIU community can also rest and re-energize at other beautiful spots around campus like the MLK Commons and the East Lagoon.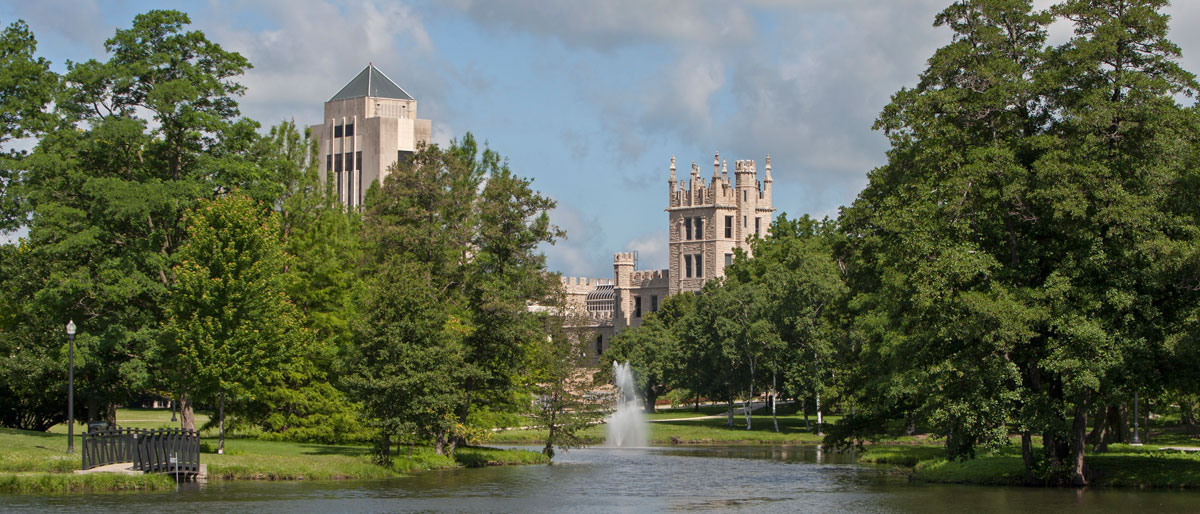 Source: niu.edu
---
Wabash College
Crawfordsville, Indiana
If you need to see or study a tree that's native to Indiana, look no further than the arboretum at Wabash College, a small, private liberal arts college for men in central Indiana. The school's arboretum, dedicated in 1973, features 90 different species of trees, including all those that are native to the Hoosier State. Those who explore the space will be treated to ivy, holly, spruce, juniper, and hemlock, among other tree species.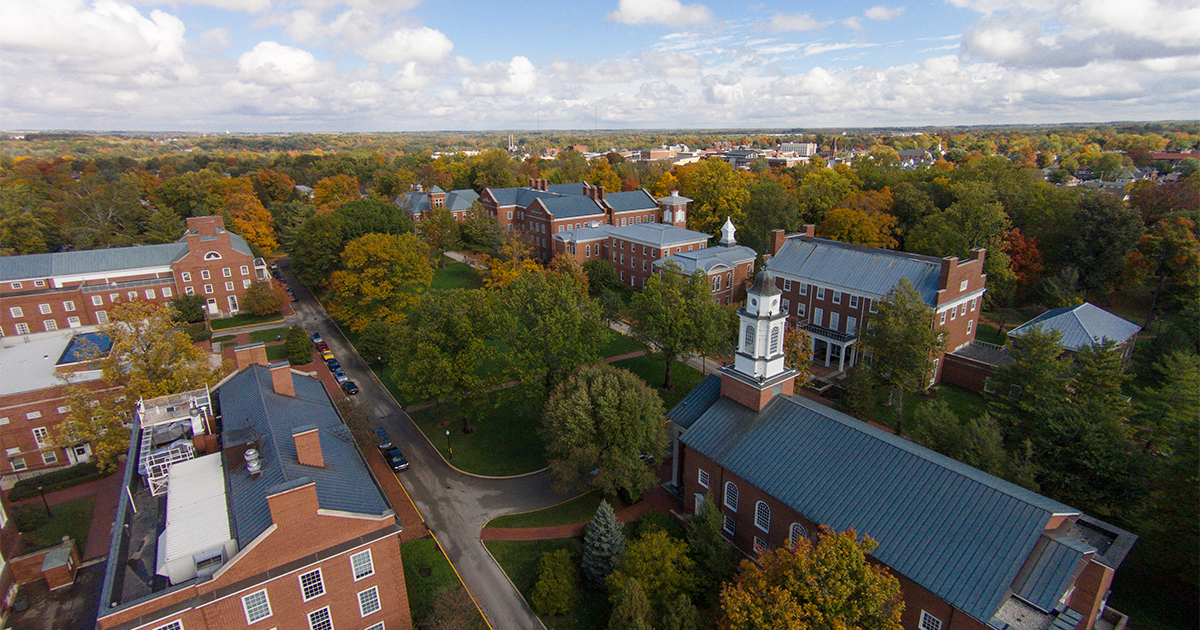 Source: wabash.edu
---
Northwestern College
Orange City, Iowa
Scattered throughout the 100-acre campus of this small Christian college in northwest Iowa is a variety of familiar and exotic trees. Most notable is the only green beech tree in Orange City, Iowa, as well as the town's first ginkgo tree, which is native to China. Northwestern College's Alumni Garden also boasts magnolia and juneberry trees, while species like Cottonwoods can be found elsewhere on campus.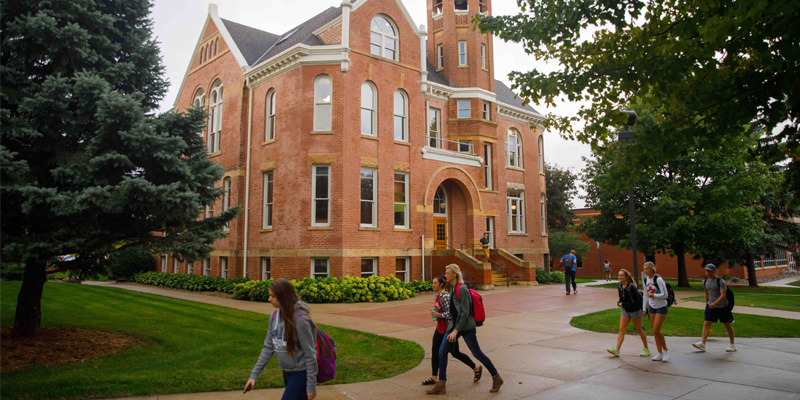 Source: nwciowa.edu
---
Hesston College
Hesston, Kansas
When people think of Kansas, situated in the heart of the Great Plains, they may not immediately think of trees. The Dyck Arboretum of the Plains at Hesston College asks people to reconsider this perspective. The 13-acre arboretum features more than 1,000 varieties of native and adaptable trees surrounding a tranquil pond, and interspersed with wildflowers, shrubs and grasses. A stroll through the arboretum's multiple gardens and environs is educational as well as enjoyable.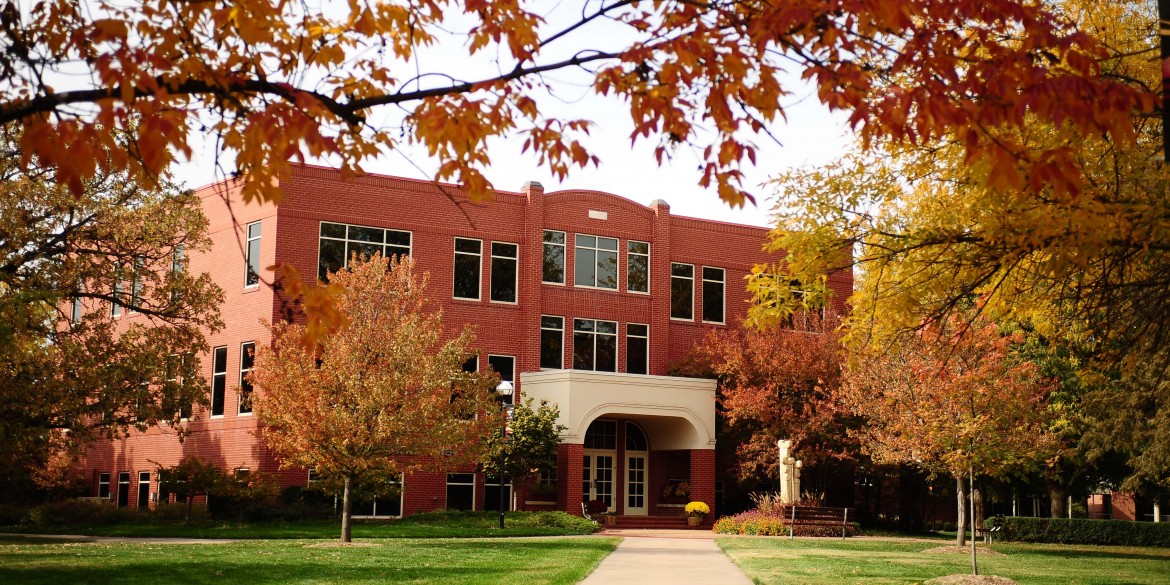 Source: hesston.edu
---
Kentucky Community and Technical College System
Versailles, Kentucky
The Kentucky Community and Technical College System operates 16 campuses throughout the state, but one campus in particular, Bluegrass Community and Technical College, stands out for its natural beauty and abundance of trees. This campus, located in Lexington, is home to the Newtown Pleasure Trail, which features more than 35 species of mature trees, as well as other flowers, fruits, and vegetables. Walking along the interpretive trail, designed and executed by students, explorers will pass fruit-bearing trees like Lodi Apple, Montmorency Cherry, and Kieffer Pear, as well as ornamental trees like White Dogwood and Eastern Redbud.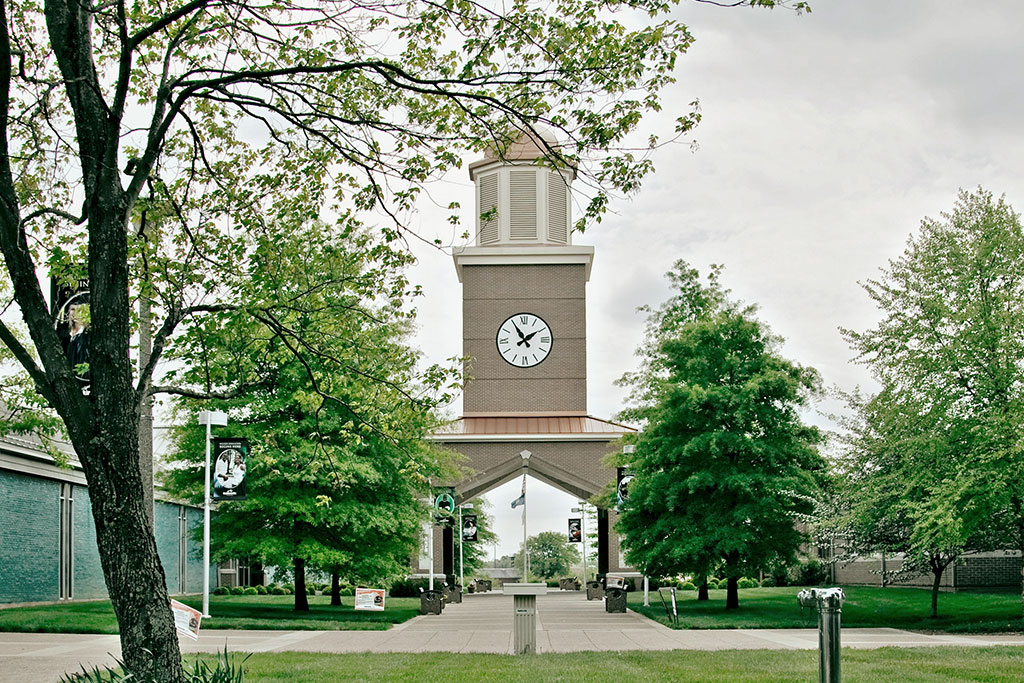 Source: hopkinsville.kctcs.edu
---
Louisiana Tech University
Ruston, Louisiana
Since the late 1940s, students from the School of Forestry at Louisiana Tech University have used the institution's 50-acre arboretum to study trees, plants, wildlife, and more. Located on the school's South Campus, the arboretum features several species of pine trees, including Loblolly and Slash pines. Elsewhere on campus, students and staff enjoy the shade and aesthetic appeal of more than 1,000 trees planted as part of the school's Quad & Keeny Circle Noble Tree Project, which was recently completed as part of the university's 125th anniversary.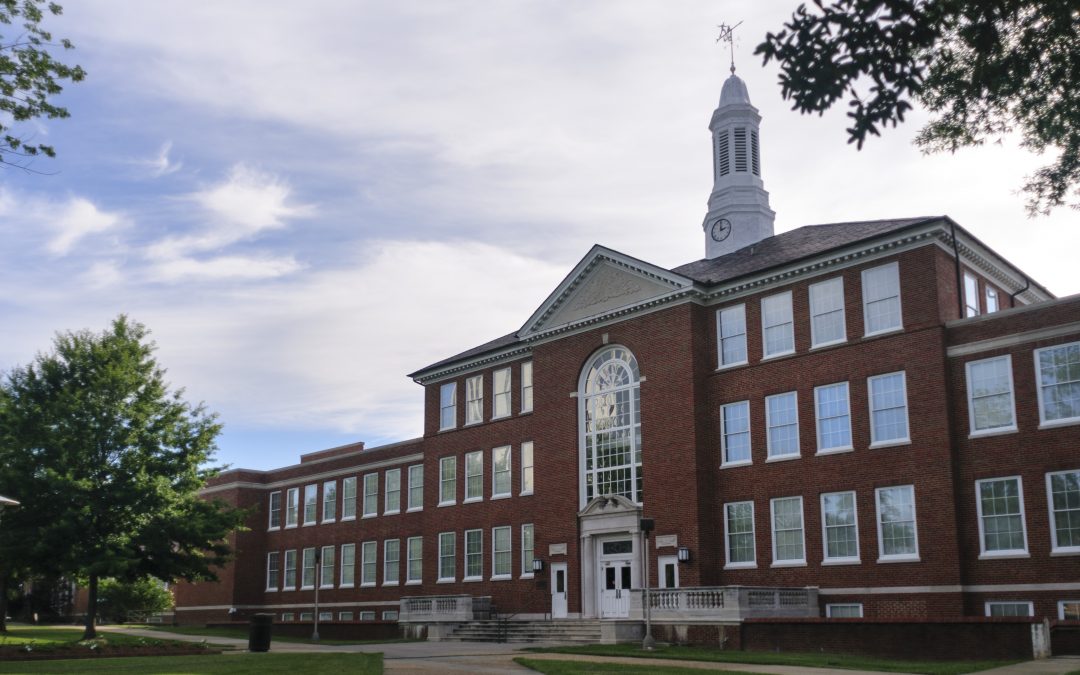 Source: orgs.latech.edu
---
Bowdoin College
Brunswick, Maine
Stepping into the Bowdoin Pines is like taking a step back in time. This area, adjacent to the Bowdoin College campus in Brunswick, is one of Maine's few remaining old-growth forests. Hiking trails invite campus community members and visitors to explore the towering white pines that gave the Pine Tree State its nickname. Elsewhere on Bowdoin's 205-acre campus, tree enthusiasts will find a wider variety of deciduous and coniferous trees that display spectacularly colorful fall foliage.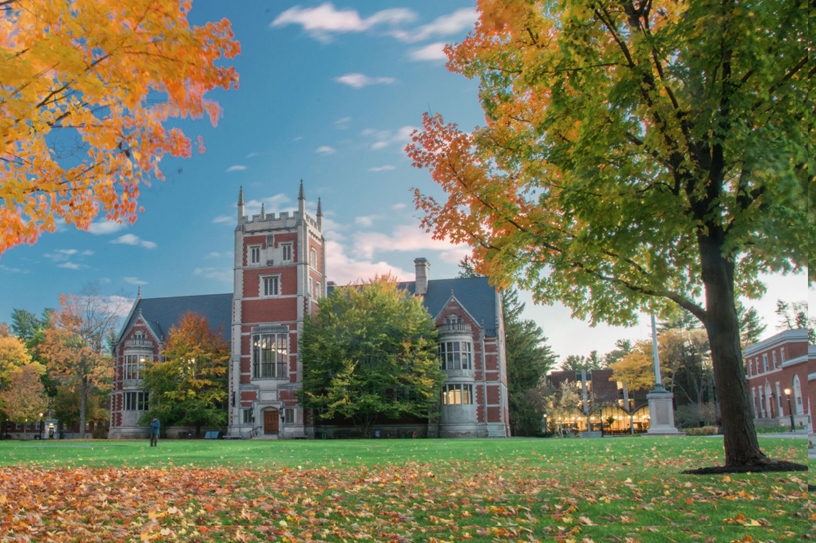 Source: bowdoin.edu
---
St. Mary's College of Maryland
St. Mary's City, Maryland
With more than 300 acres of developed and undeveloped land, St. Mary's College of Maryland is an ideal place to explore all of Southern Maryland's biodiversity, including tidal marshes, meadows, and wildlife. Tree enthusiasts will delight in identifying dozens of different tree varieties, including American Sycamore, Southern Magnolia, and Natchez Crape Myrtle. The college works with the St. Mary's Arboretum Association to identify trees and plants, support birds and beneficial insect populations with native species, and preserve the landscape for future generations.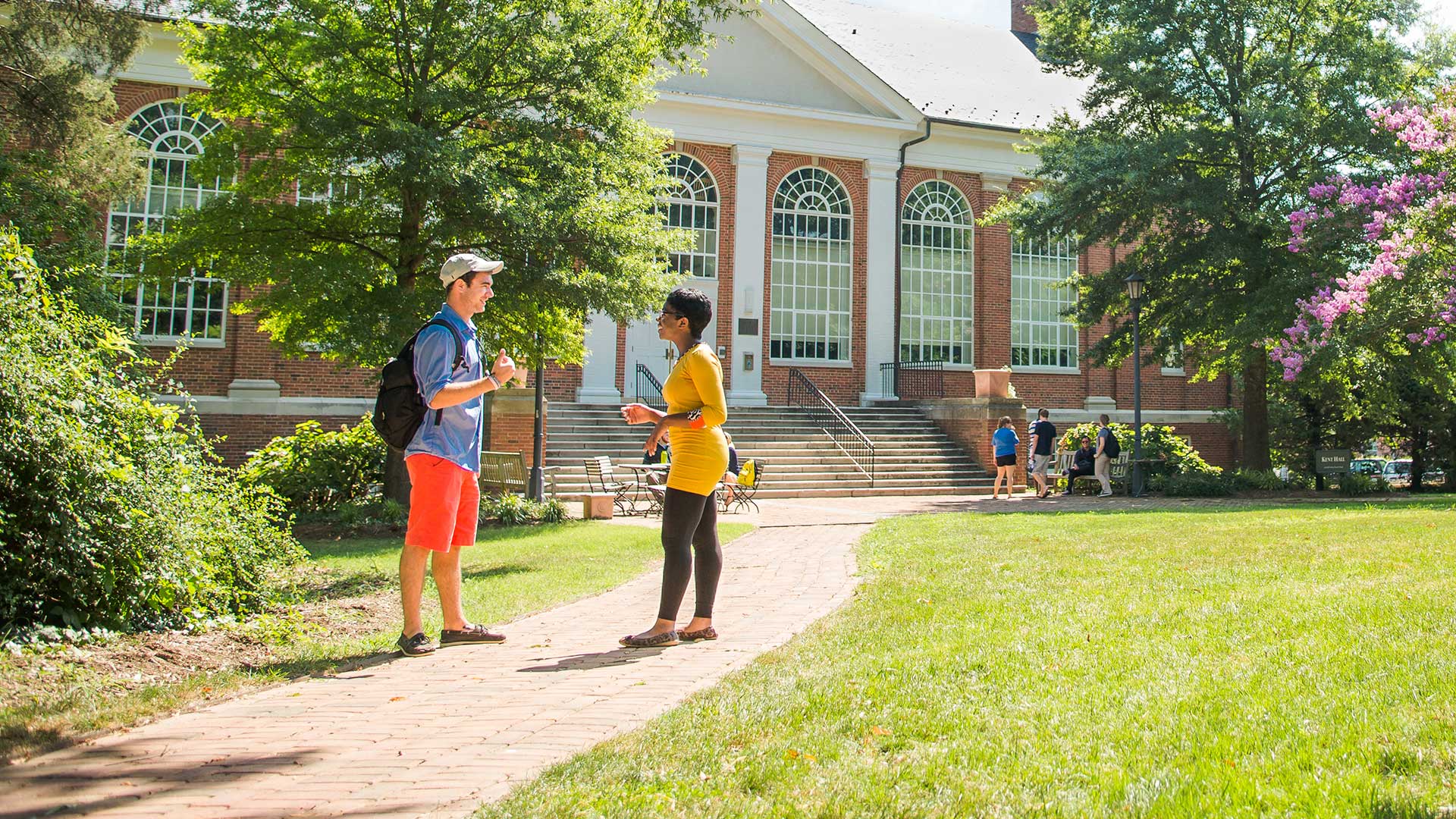 Source: smcm.edu
---
Clark University
Worcester, Massachusetts
Considering Clark University in eastern Massachusetts has its own forest, it was a shoe-in for a spot on our list. The Hadwen Arboretum, which became part of the school in 1907, is 26 acres of pristine woodland space that features several "heritage" trees that are more than 100 years old. Six different hiking trails allow visitors to get up close and personal with native and adaptable tree species, including new additions like Blue Spruce, American Redbud and Kentucky Coffee Tree that were planted in 2020 in collaboration with the Worcester Tree Initiative at Tower Hill Botanic Garden.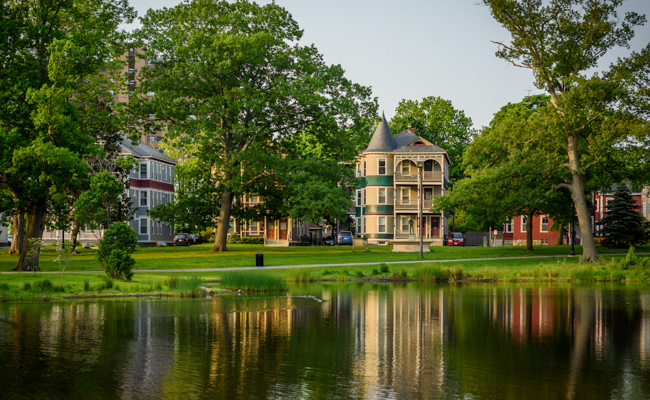 Source: clarku.edu
---
Albion College
Albion, Michigan
Located at Albion College's Whitehouse Nature Center, the Stowell Arboretum welcomes students, staff and visitors to learn about a variety native and adaptable tree species, as well as other flora and fauna. Multiple trails wind through the Center's 140 acres, taking visitors past tree species including Arrowwood, American Beech, and Honey Locust, all of which are native to Michigan, as well as imports like Common Buckthorn, London Planetree, and Norway Spruce.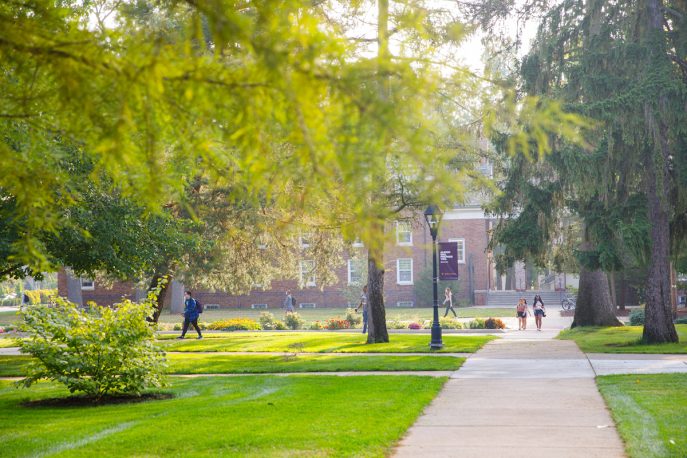 Source: web.albion.edu
---
Augsburg University
Minneapolis, Minnesota
Augsburg University is an excellent example of how an urban campus can incorporate trees and other plants to create an inviting, relaxing green space among the hustle and bustle of a city. The school's Augsburg Urban Arboretum encompasses the whole campus as well as nearby Murphy Square, and features many varieties of elms, maples, firs, and more. The campus even boasts apple trees, perfect for plucking a token of appreciation for a friendly professor.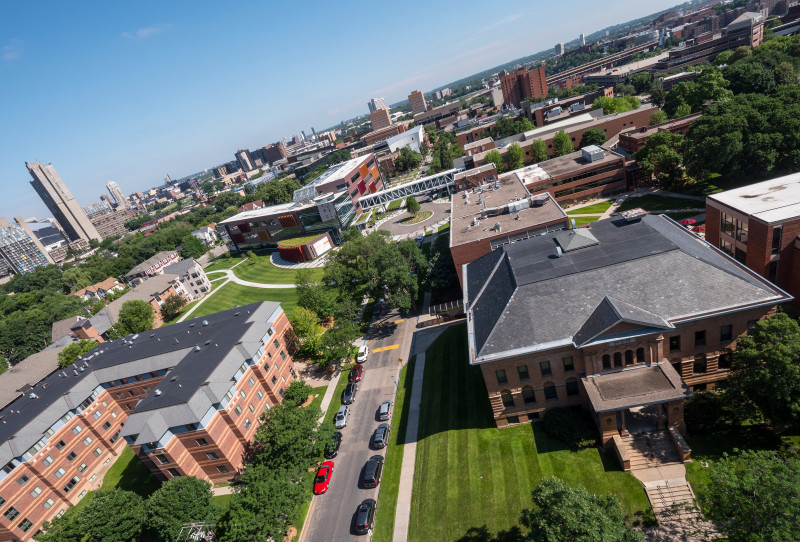 Source: minnpost.com
---
Jackson State University
Jackson, Mississippi
Located at the northern end of the Jackson State University campus, the school's botanical garden is a living, breathing laboratory for students in the school's Biology department. Composed of an outdoor garden and greenhouse, the space gives students the opportunity to study native and exotic trees, including olive, fig, pomegranate, and grape vine trees.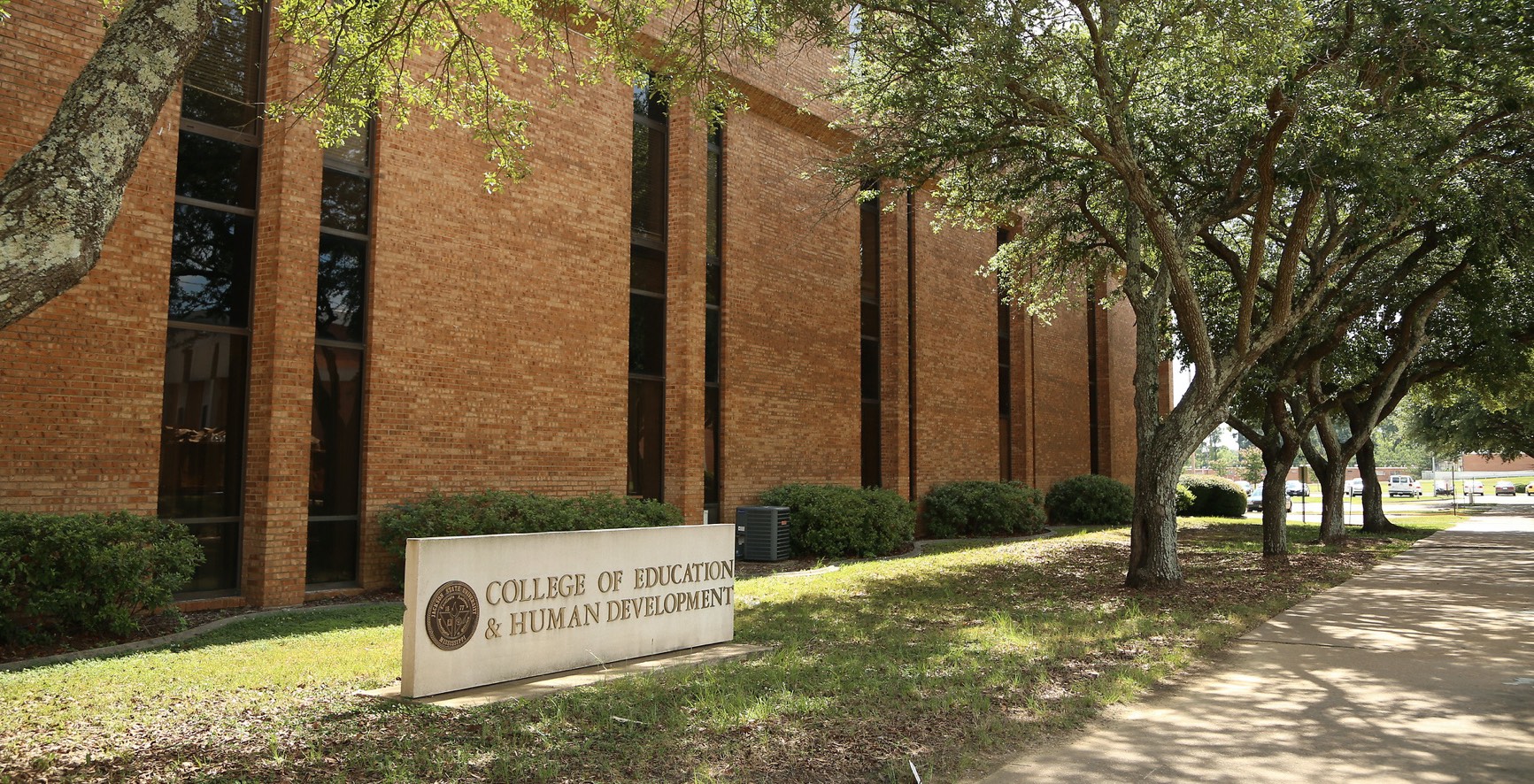 Source: jsums.edu
---
Calvary University
Kansas City, Missouri
Thanks to a senior class initiative in 2018, visitors to Calvary University's Kansas City campus are greeted by a canopy of evergreen trees, known as "Green Giants," that line the main road leading to campus. The 15 trees were planted by the Class of 2018 to honor former university staff members Dr. Keith and Pat Miller.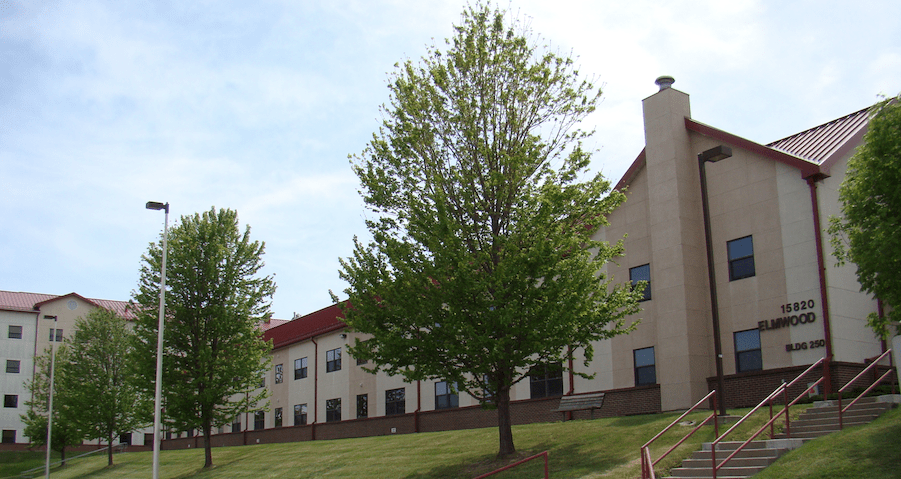 Source: calvary.edu
---
Montana State University
Bozeman, Montana
Montana is often referred to as "Big Sky Country," but everyone needs a little shade sometimes. Montana State University, located in the heart of the Custer Gallatin National Forest, is a great place to catch a break from all the sun and sky Montana has to offer. The school's 1,780-acre campus features dozens of different tree species. The school's Duck Pond is shaded by a cluster of coniferous spruce and deciduous ash trees, while the Romney Oval is ringed by Flowering Crabapple, Norway Maple, and Bur Oak trees.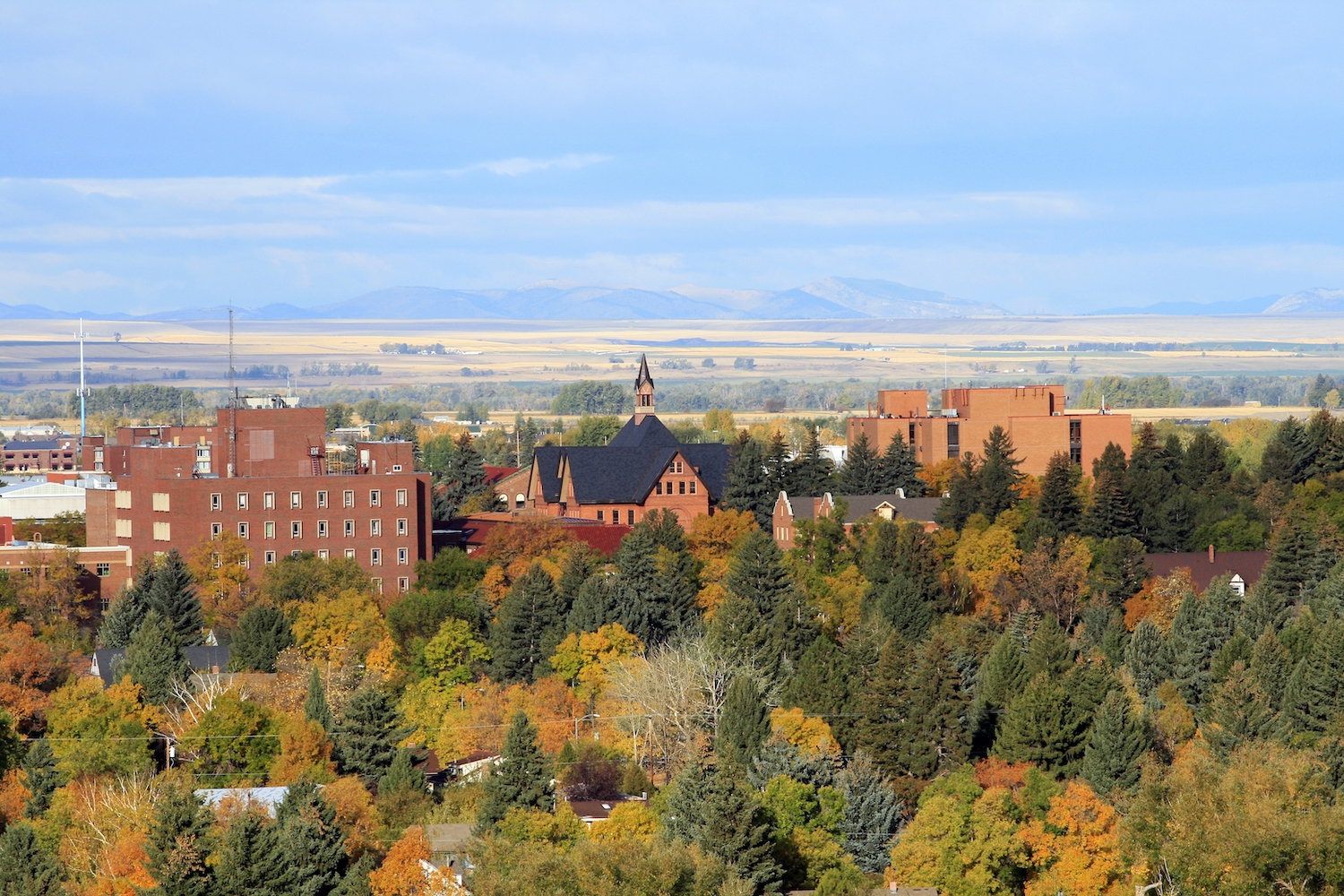 Source: montana.edu
---
Peru State College
Peru, Nebraska
Peru State College has a special link to Arbor Day – the campus is located near the home of Arbor Day founder J. Sterling Morton. The holiday, and Morton's tree-planting efforts, helped transform the school's campus into the vibrant space it is today, dotted with Ginkgo, Cypress, Maple, and Colorado Blue Spruce trees that provide shade and color. Peru State also boasts the Campus of a Thousand Oaks Wellness Trail, where walkers and joggers can check out 45 varieties of oaks and oak hybrids.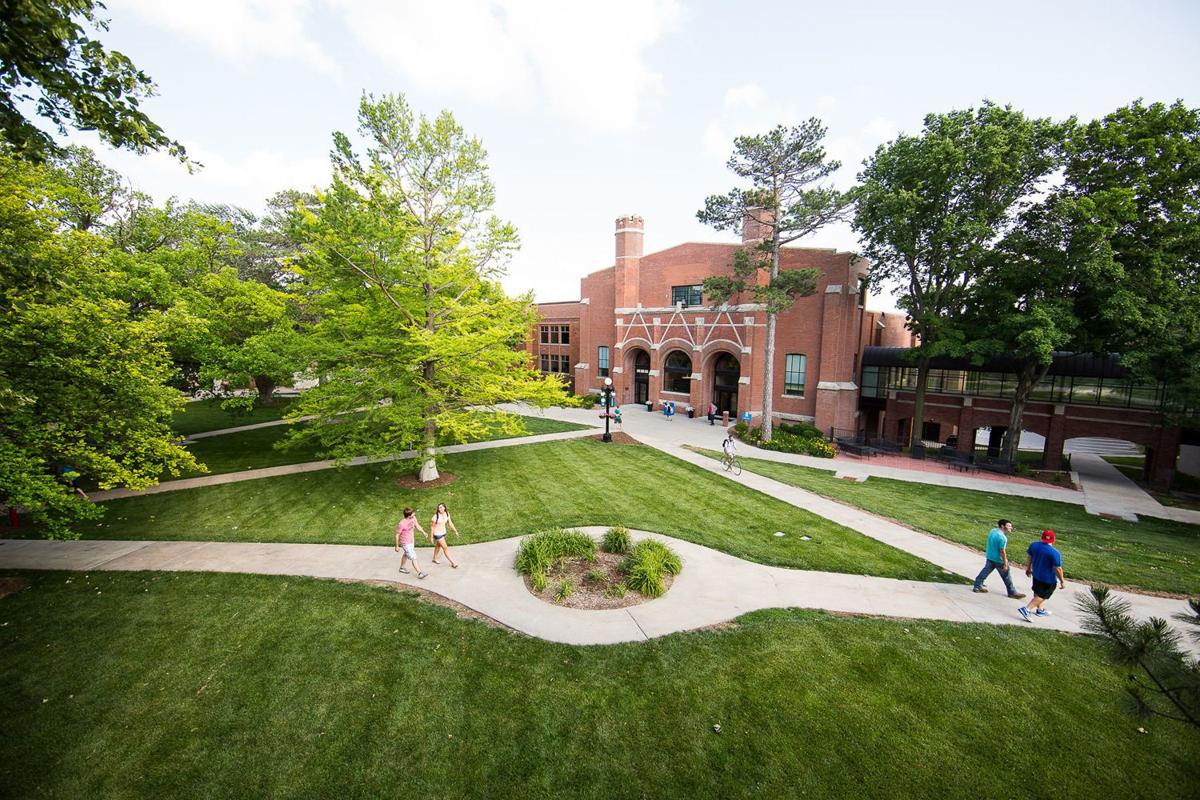 Source: peru.edu
---
Sierra Nevada University at Lake Tahoe
Incline Valley, Nevada
The Sierra Nevada Mountains are home to some of the most iconic trees in the world, including the massive Giant Sequoia known as General Sherman. Therefore, it's not surprising that Sierra Nevada University at Lake Tahoe, located in the eastern part of the mountain range on the shores of Lake Tahoe, earned a spot on our list. Scholars and visitors alike can spend hours marveling at the multiple coniferous species native to the area, including different varieties of pine, fir, cedar, and juniper trees.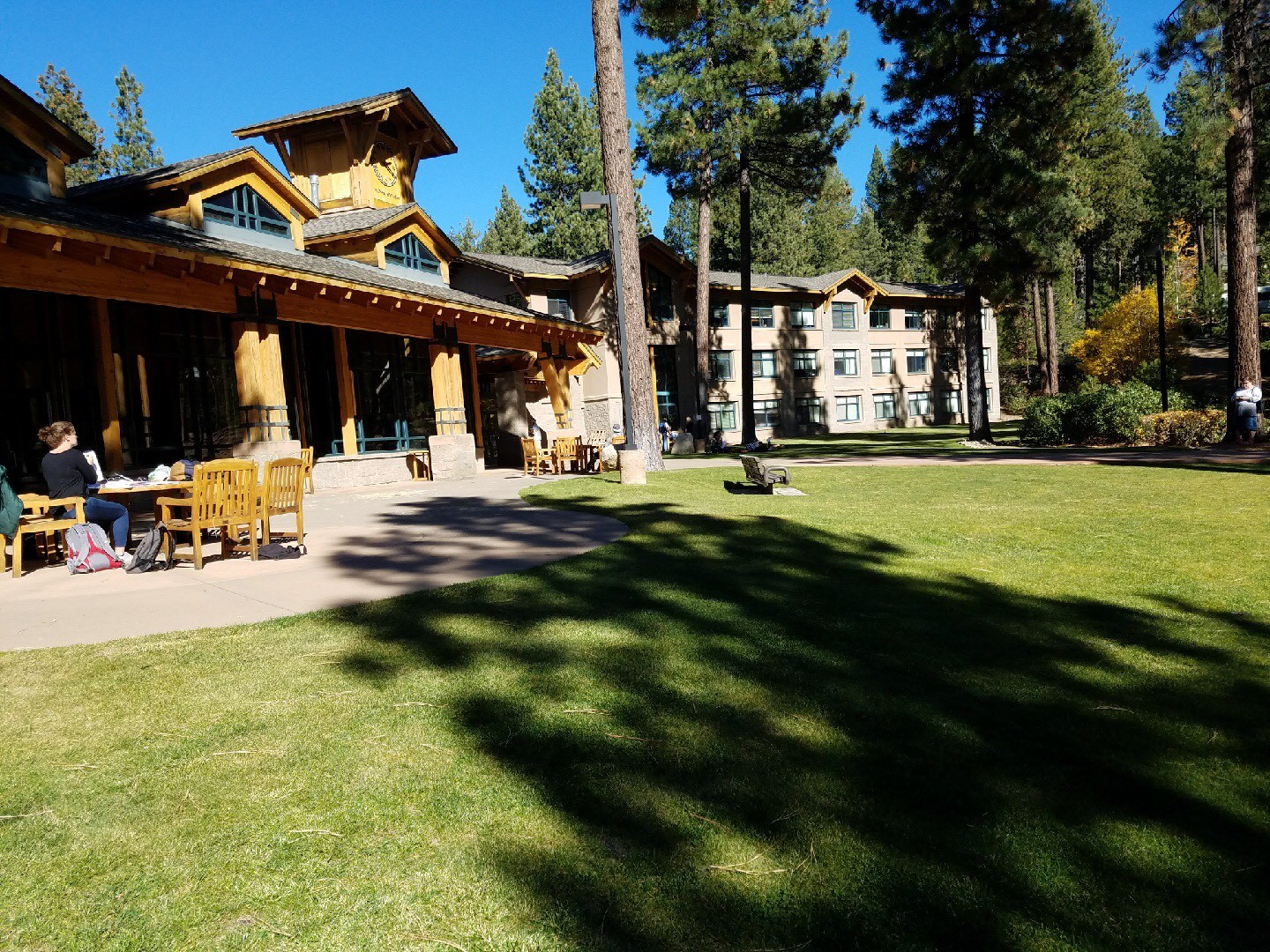 Source: sierranevada.edu
---
Dartmouth College
Hanover, New Hampshire
As an Ivy League school and one of the country's oldest institutions of higher learning, New England's Dartmouth College may be the archetype for the tree-lined college campus. Thanks to careful stewardship, many of the trees that were there when the college was founded in 1769 are still around, including Eastern Redbuds and elms. However, the school's most famous tree, the Lone Pine, which was a gathering place for students in the 19th century, is now just a stump, preserved after the tree was damaged and had to be removed in 1895.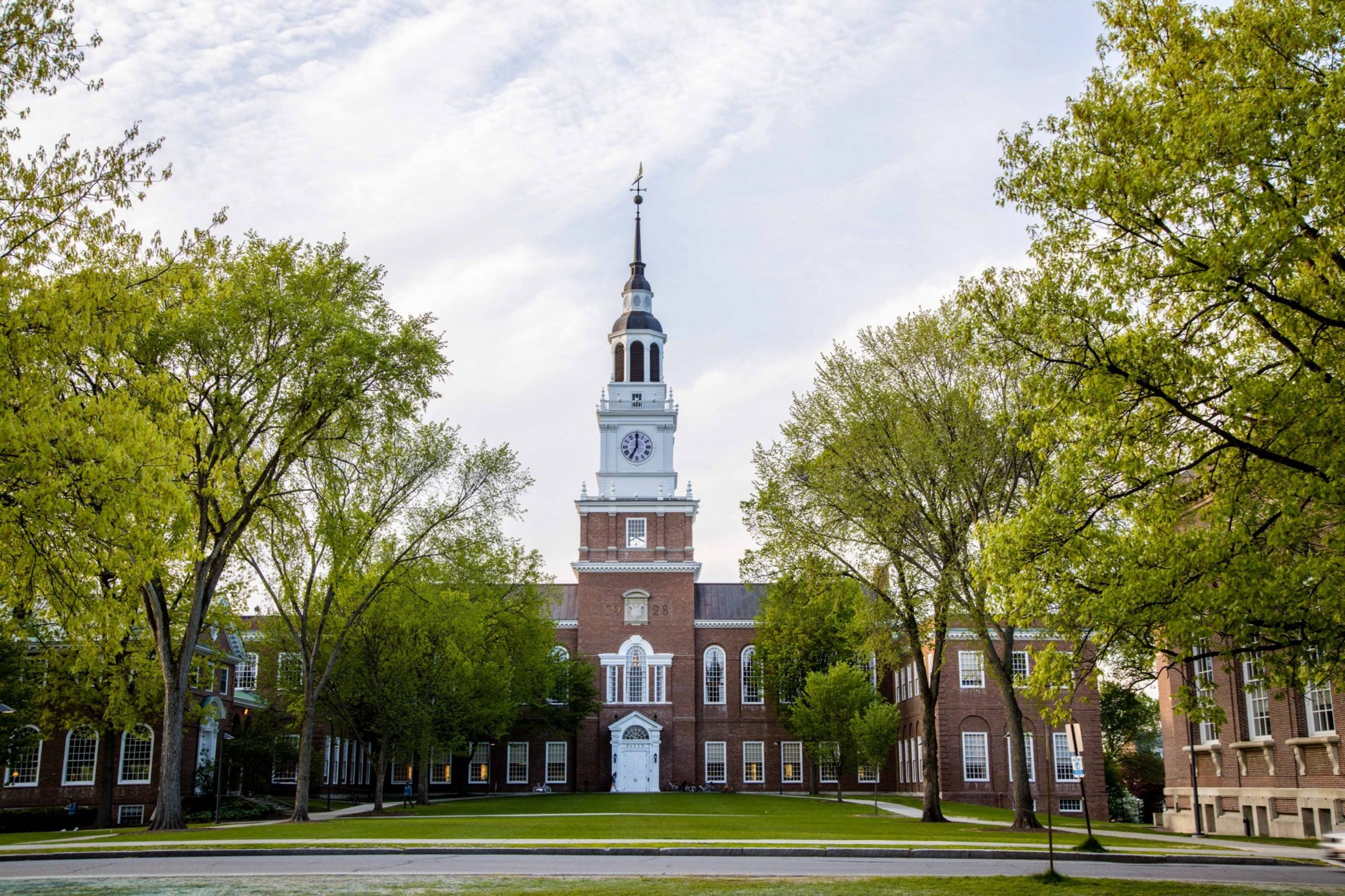 Source: thedartmouth.com
---
Montclair State University
Montclair, New Jersey
Montclair State University boasts a verdant 252-acre campus situated in a small, tree-lined suburb of New York City. The school's PSEG Institute for Sustainability Studies helps address sustainability issues on campus and in the community, including a recent project to map and identify trees within the town of Montclair. The information was shared with town arborists to help monitor the health of existing trees, and guide decisions for planting new ones, ensuring Montclair will be a welcoming green space for years to come.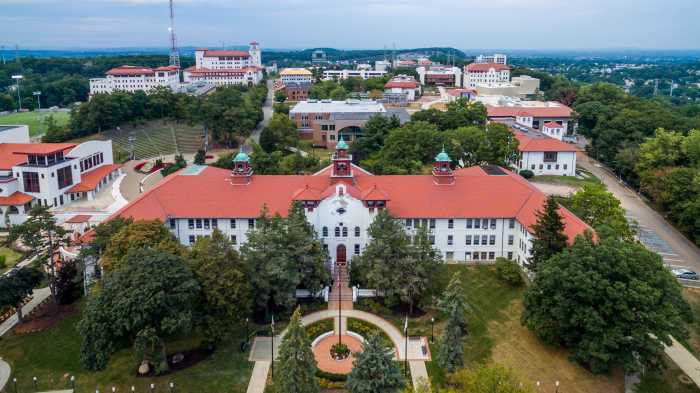 Source: montclair.edu
---
Eastern New Mexico University
Portales, New Mexico
Eastern New Mexico University may be one of the youngest schools on our list (it opened its doors in 1934), the trees on its campus near the New Mexico-Texas border will be a part of the school's legacy for years to come. Recently, the school planted several Pistachio trees to replace damaged Siberian Elm trees. A desert native, Pistachio trees can survive dry, hot summers to live for several hundred years, while growing over 30 feet tall.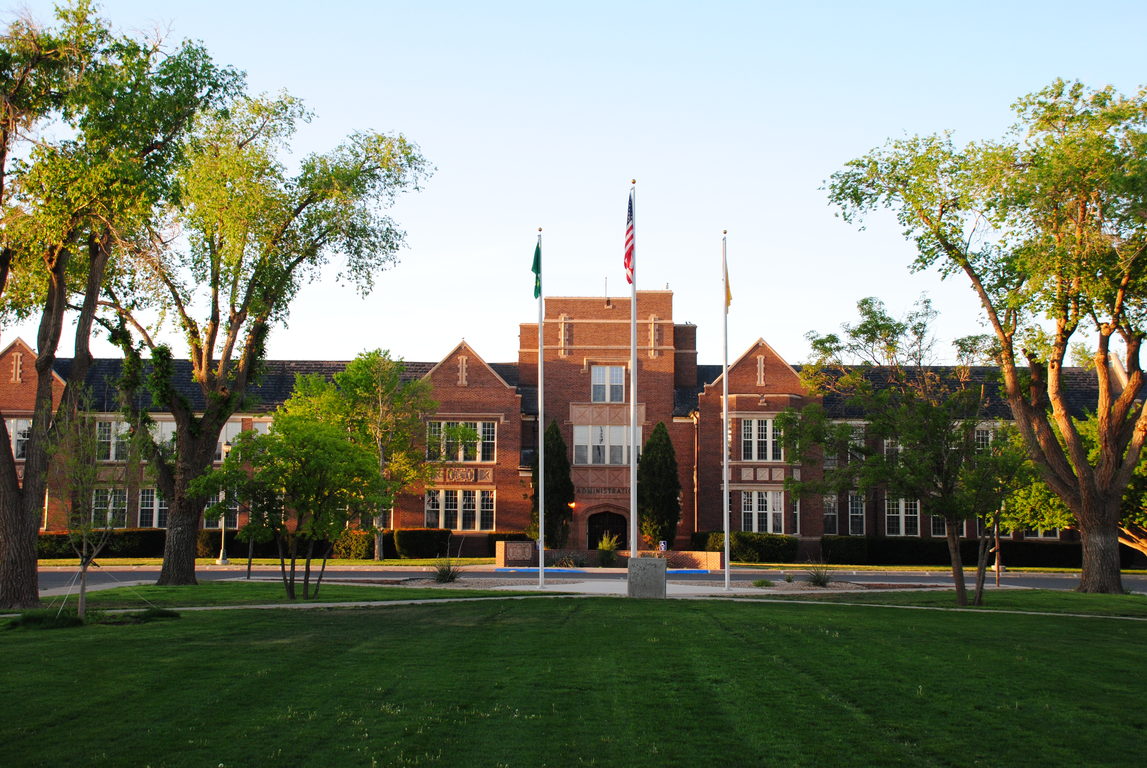 Source: themustang.wnmu.edu
---
Hofstra University
Nassau County, New York
Officially designated as an arboretum in 1985, Hofstra University has been welcoming tree and plant enthusiasts to get in touch with nature at its 244-acre campus on Long Island. Evergreen and deciduous trees are the stars of the show here; there are more than 12,000 sprinkled throughout the campus, representing hundreds of species and varieties.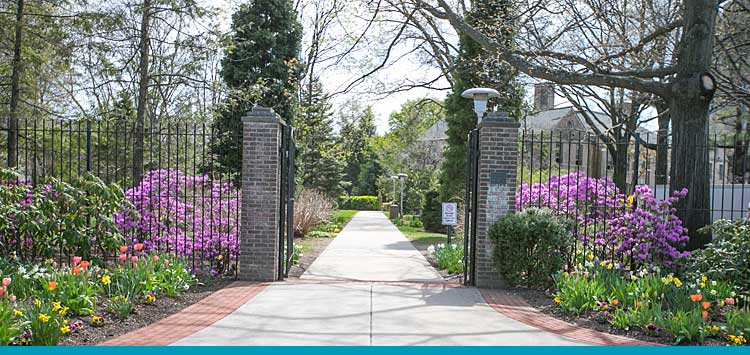 Source: hofstra.edu
---
Davidson College
Davidson, North Carolina
Individuals who enjoy the beauty and serenity of the trees scattered throughout Davidson College have past generations to thank. Since the 1860s, students, faculty and groundskeepers have acted as stewards of the campus's tree population, planting and caring for the multiple varieties of native and imported trees found around the 600-acre campus. Nowadays, people can enjoy the nearly 3,000 trees that have been identified on campus, including five varieties that were once native to North America, but went extinct millions of years ago.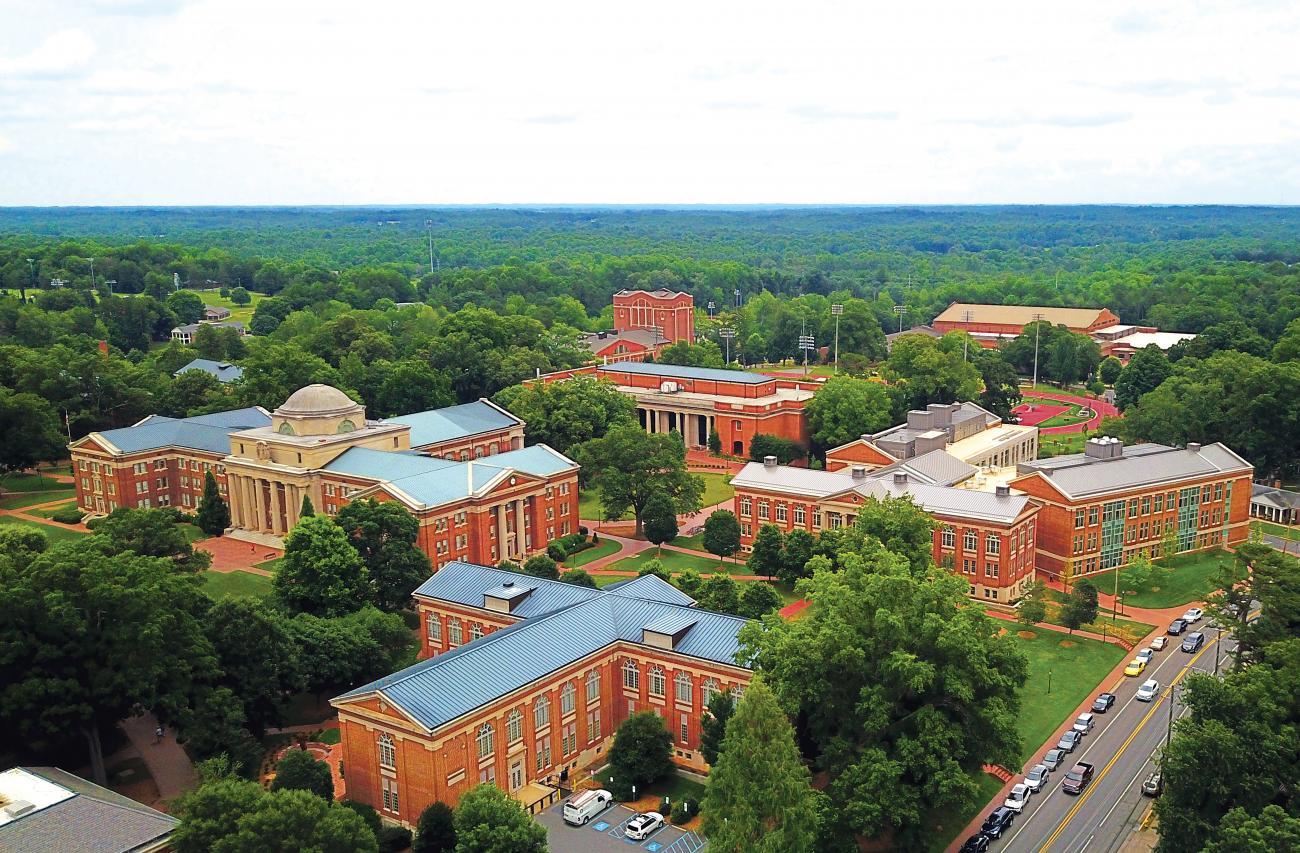 Source: davidson.edu
---
University of North Dakota
Grand Forks, North Dakota
Take a stroll around the University of North Dakota's Twamley Quad on a sunny spring day, and you just might see students stringing up hammocks between the trees lining this common outdoor space. UND is home to over 6,000 trees, many of which are evergreen species that can withstand North Dakota's notoriously harsh winters.

Source: und.edu
---
Franciscan University of Steubenville
Steubenville, Ohio
At Franciscan University of Steubenville, trees are a way of marking time. Their vibrant red, gold and orange hues welcome students to this eastern Ohio campus in the fall before giving way to bare, snow-covered branches in the winter. As students criss-cross campus in the spring, they do so under a canopy of blossoms that bloom into lush green leaves, just in time for summer vacation.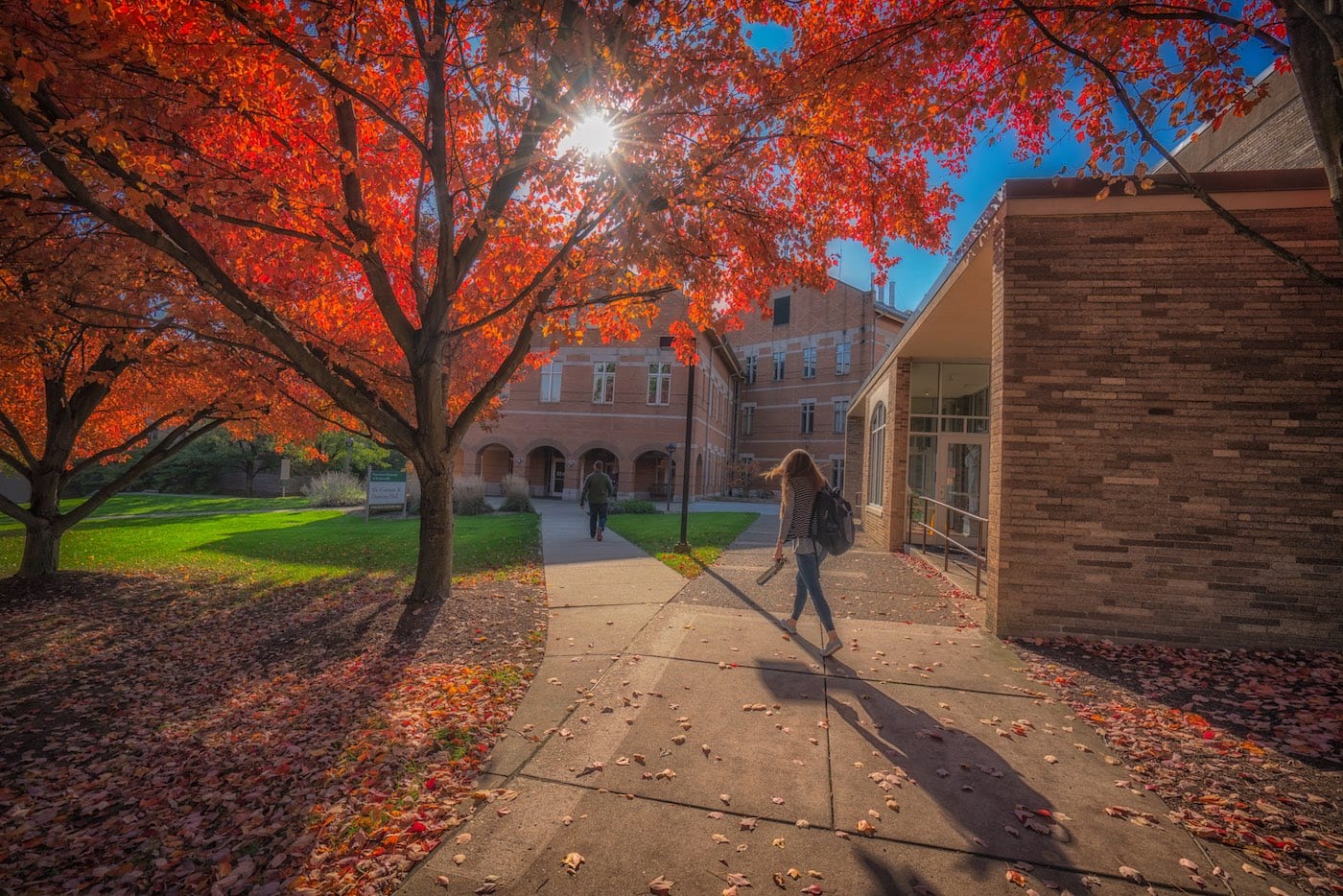 Source: franciscan.edu
---
Oklahoma State University
Stillwater, Oklahoma
The trees planted throughout Oklahoma State University's 1,489-acre campus were chosen and placed intentionally to create a sense of harmony and balance on the sprawling campus. Thus, the school boasts a charming array of flowering trees that provide color and shade in the spring and summer months, and evergreen trees that give the campus a crisp, welcoming look during winter snowfalls.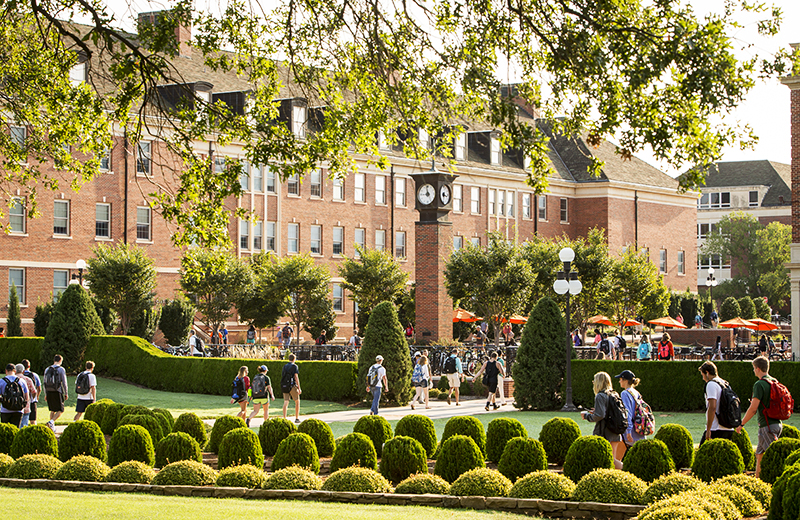 Source: go.okstate.edu
---
Pacific University
Forest Grove, Oregon
Given that Pacific University Oregon is located in a town called Forest Grove, it's no surprise that this private university landed a spot on our list. Giant oaks and evergreens, many of which were standing when the school was founded in 1849, stand sentinel around the campus. True to the school's name, many of the tree varieties found around campus are native to the Pacific Northwest, including Douglas Fir, Oregon White Oak, and Giant Sequoia.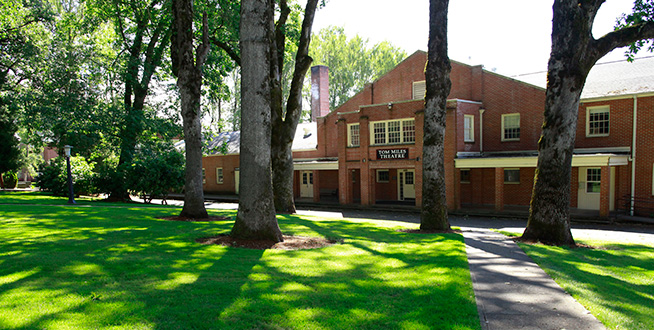 Source: pacificu.edu
---
Slippery Rock University
Slippery Rock, Pennsylvania
Located in the rolling hills of western Pennsylvania, Slippery Rock University has an inviting, 650-acre campus featuring walking trails and outdoor common areas lined with a variety of native and adaptable trees. The school recently added more than four dozen new trees to campus, including Okame Cherry and Sugar Tyme Crabapple trees. These trees were planted so that when they bloom in the spring, they create a canopy of alternating pink and white blossoms, a perfect backdrop for relaxing walk after a day of hitting the books.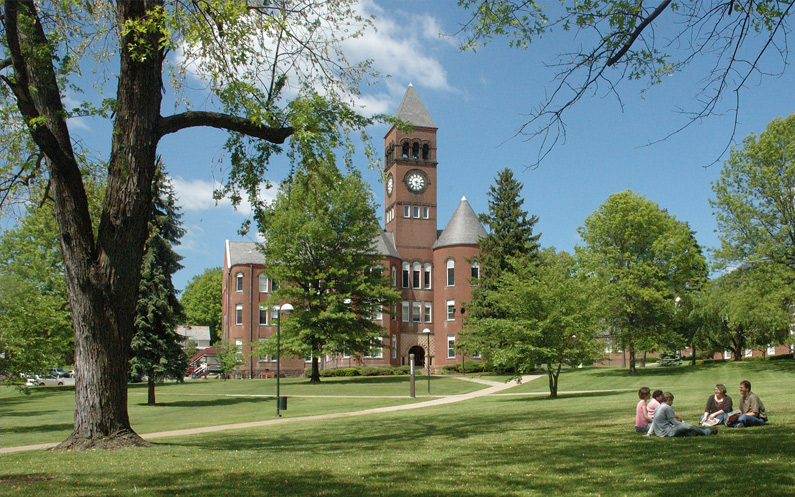 Source: sru.edu
---
Salve Regina University
Newport, Rhode Island
Overlooking Easton Bay in southern Rhode Island, Salve Regina University is known for its strikingly beautiful 88-acre campus. The school's collection of 1,200 trees, featuring over 100 different species, is part of its natural charm. The Arboretum at Salve Regina works to protect and preserve these trees, many of which are exotic varieties brought in by the school's landscape designers, the Olmstead Brothers. Nowadays, students, staff and visitors can soak in the arboretum's beauty by following one of the designated pathways on campus.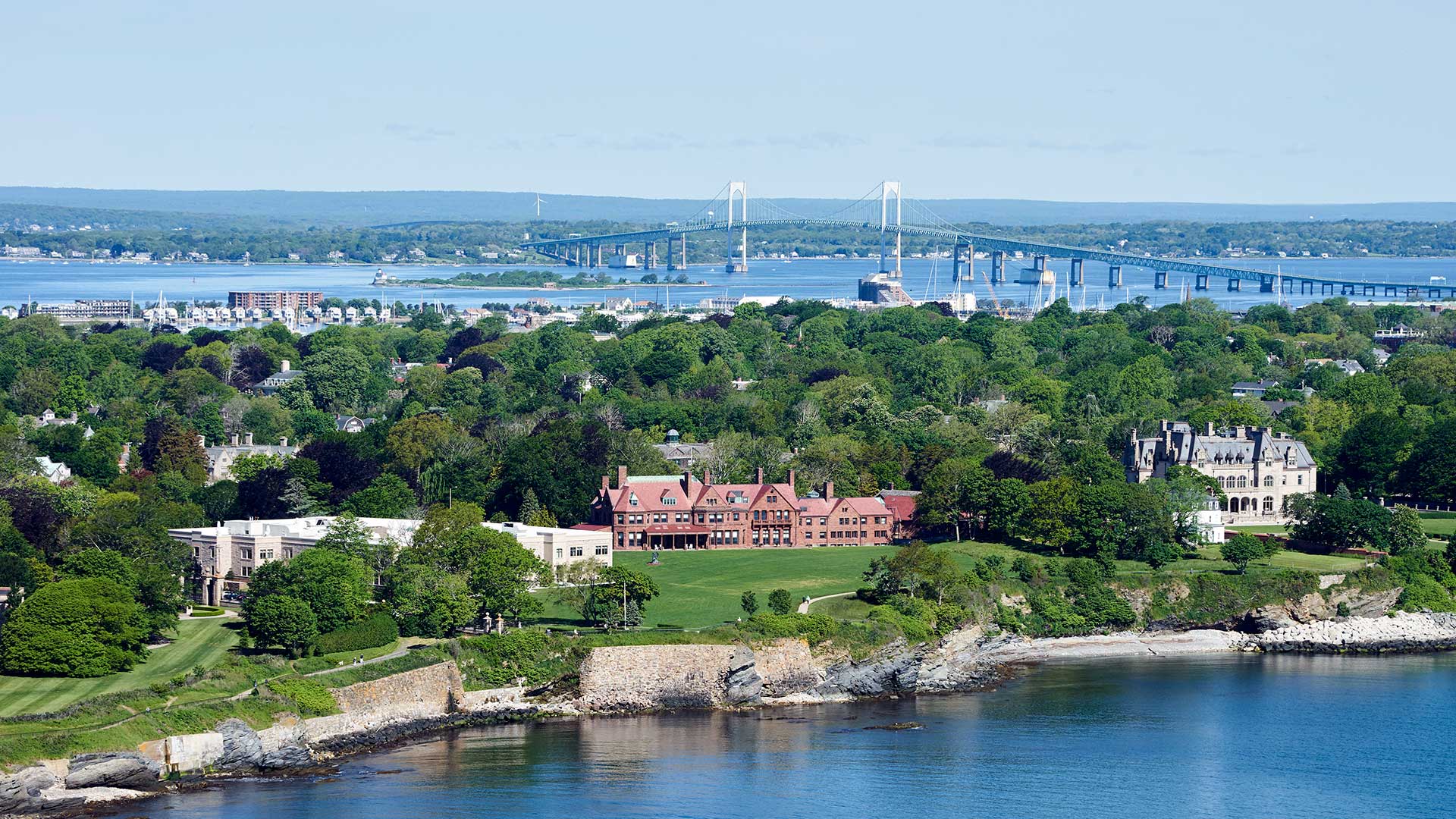 Source: salve.edu
---
College of Charleston
Charleston, South Carolina
Stepping onto the campus of the College of Charleston, founded in 1770, is like stepping back in time. The numerous trees on the school's campus help add to the historic atmosphere, which is why the school was quick to replace three iconic trees lost to disease in Cistern Yard, a popular outdoor gathering space. In 2017, the College of Charleston planted three oak trees to provide shade and fresh air in the courtyard. Meanwhile, for those who need even more nature, the school also operates the nearby Stono Preserve, an 881-acre living laboratory featuring long-leaf pine forests, wetlands, and tidal marshes.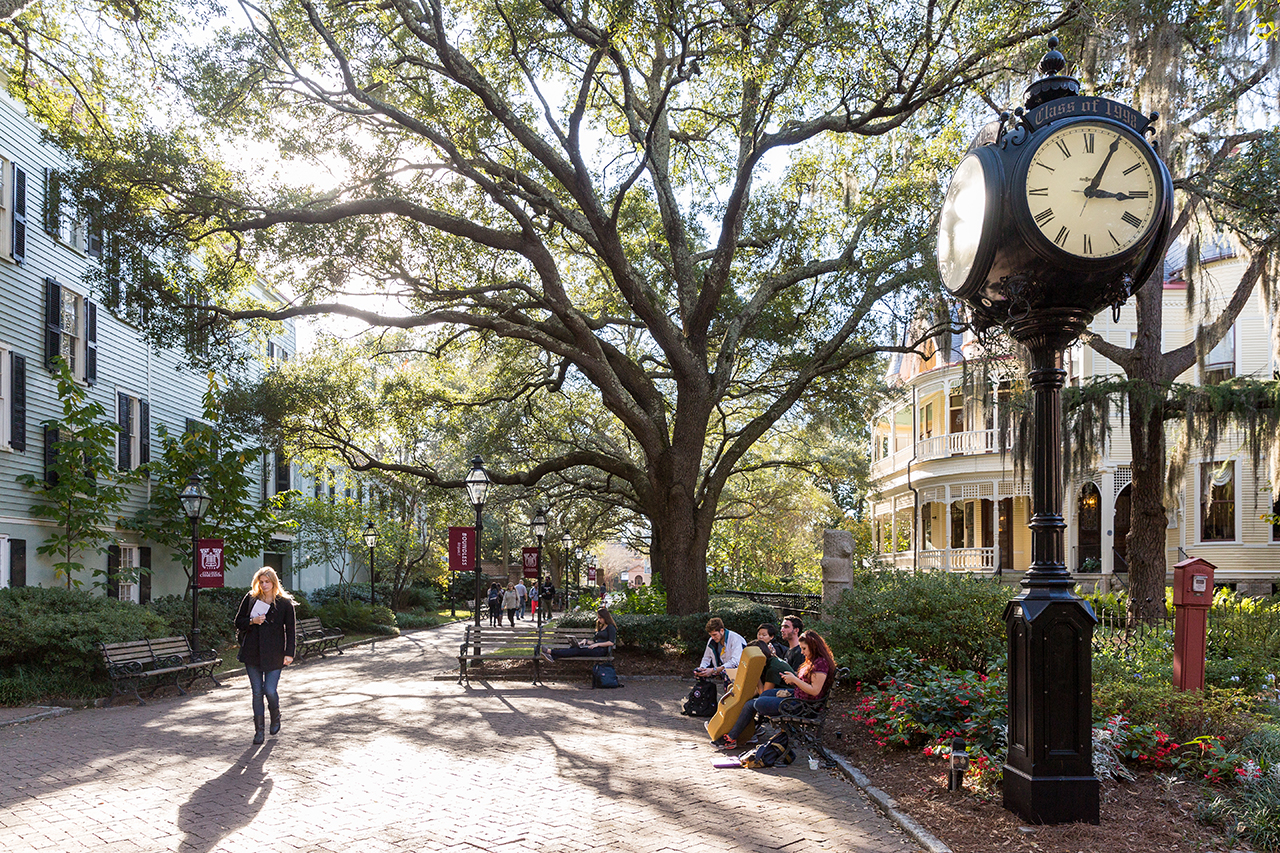 Source: today.cofc.edu
---
Northern State University
Aberdeen, South Dakota
The Terence Brown Tree Trail at Northern State University celebrates its namesake, former university president Dr. Terence Brown, by preserving the natural beauty of the campus. Environmental science students regularly use this wooded area as a hands-on classroom, while walkers and joggers enjoy a diverse array of old and young trees.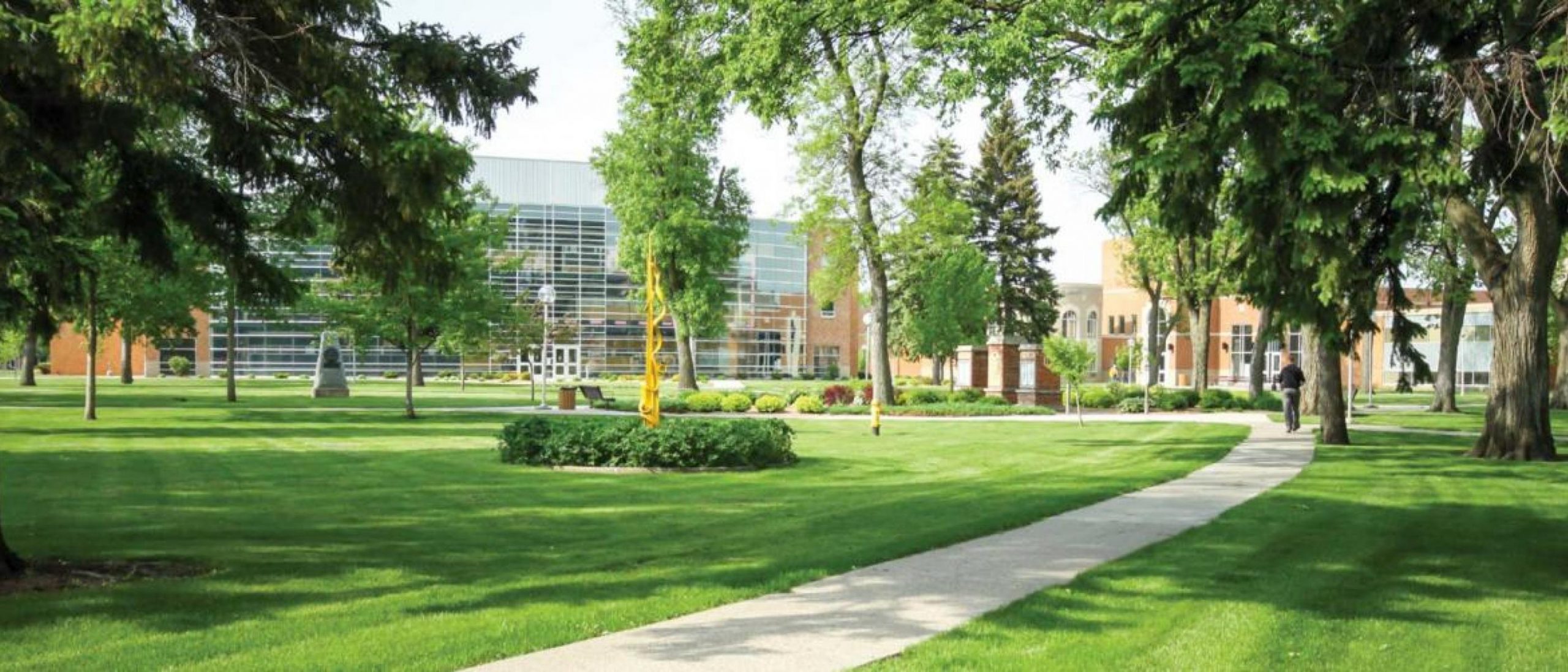 Source: northern.edu
---
Freed-Hardeman University
Henderson, Tennessee
Although Freed-Hardeman University is not yet officially a certified arboretum, this private college in western Tennessee is well on its way to earning that status. To date, 42 different indigenous tree species have been identified on its 120-acre campus. The campus also is home to a protected wetlands area, which includes rare flowers as well as trees and other vegetation unique to the ecosystem.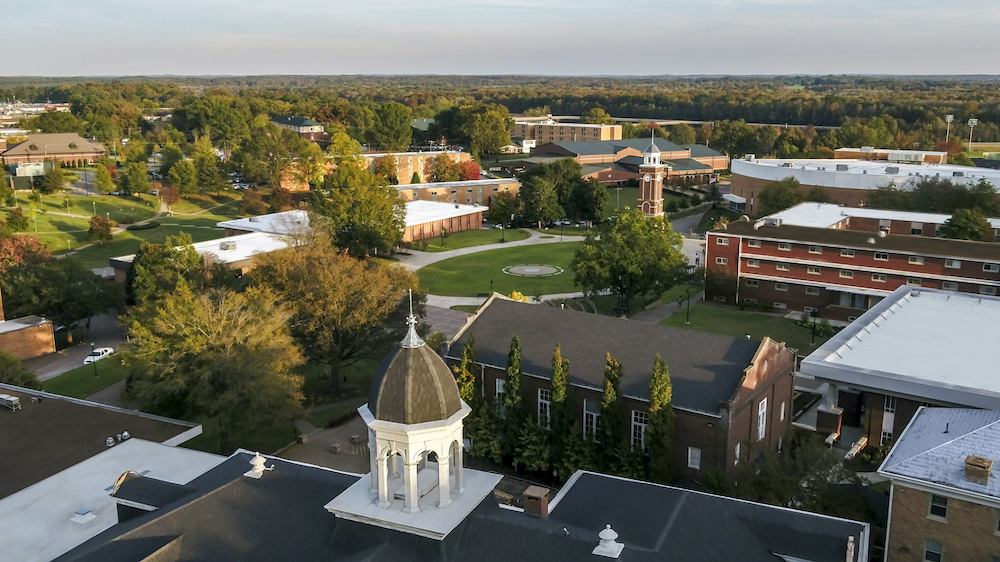 Source: fhu.edu
---
Sam Houston State University
Huntsville, Texas
Located just outside the national forest with which it shares a namesake, Sam Houston State University is a 368-acre rural campus graced with many tree species native to the area, including Loblolly Pine, American Elm, and Crepe Myrtle. Besides enjoying the shade and fresh air provided by the trees, students get hands-on learning experience at SHSU's Horticulture Center, an interactive green space and community garden.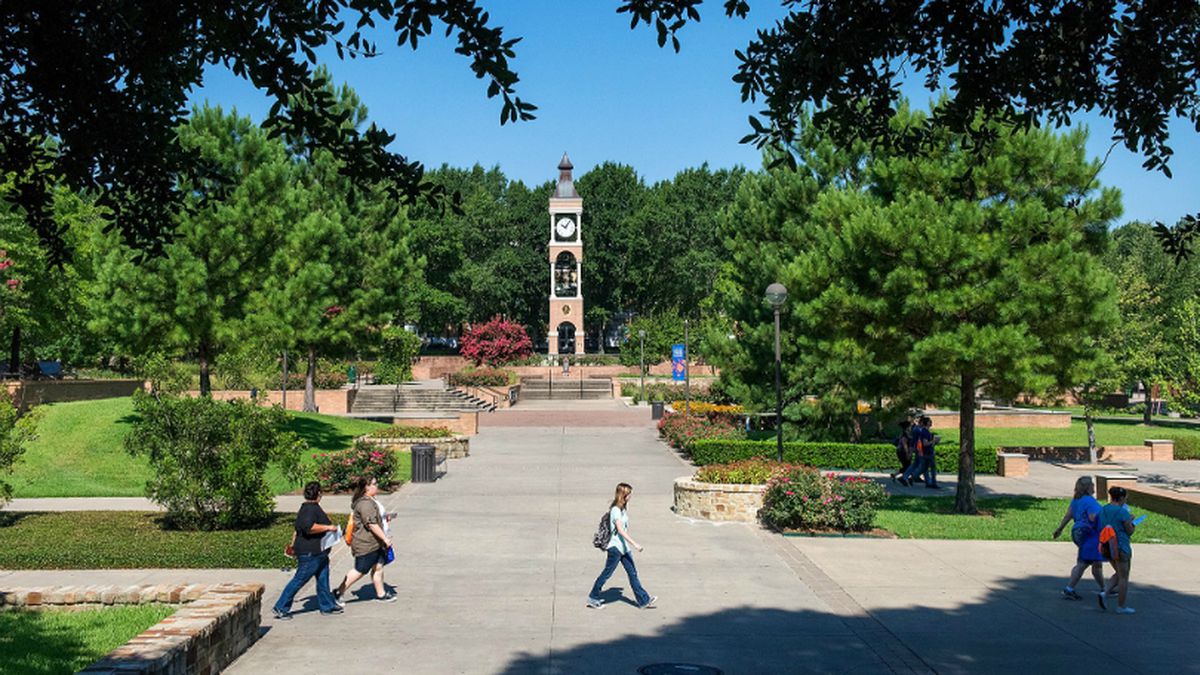 Source: catalog.shsu.edu
---
Brigham Young University
Provo, Utah
Stroll through Brigham Young University's 575-acre campus, and you're likely to encounter a species of tree you've never seen before. BYU is home to over 100 different tree varieties, including many that are native to Europe and Asia, like Austrian Pine, Saucer Magnolia, and Zelkova. The university's handy tree tour guide will help you identify all of the new and familiar trees as you meander around campus.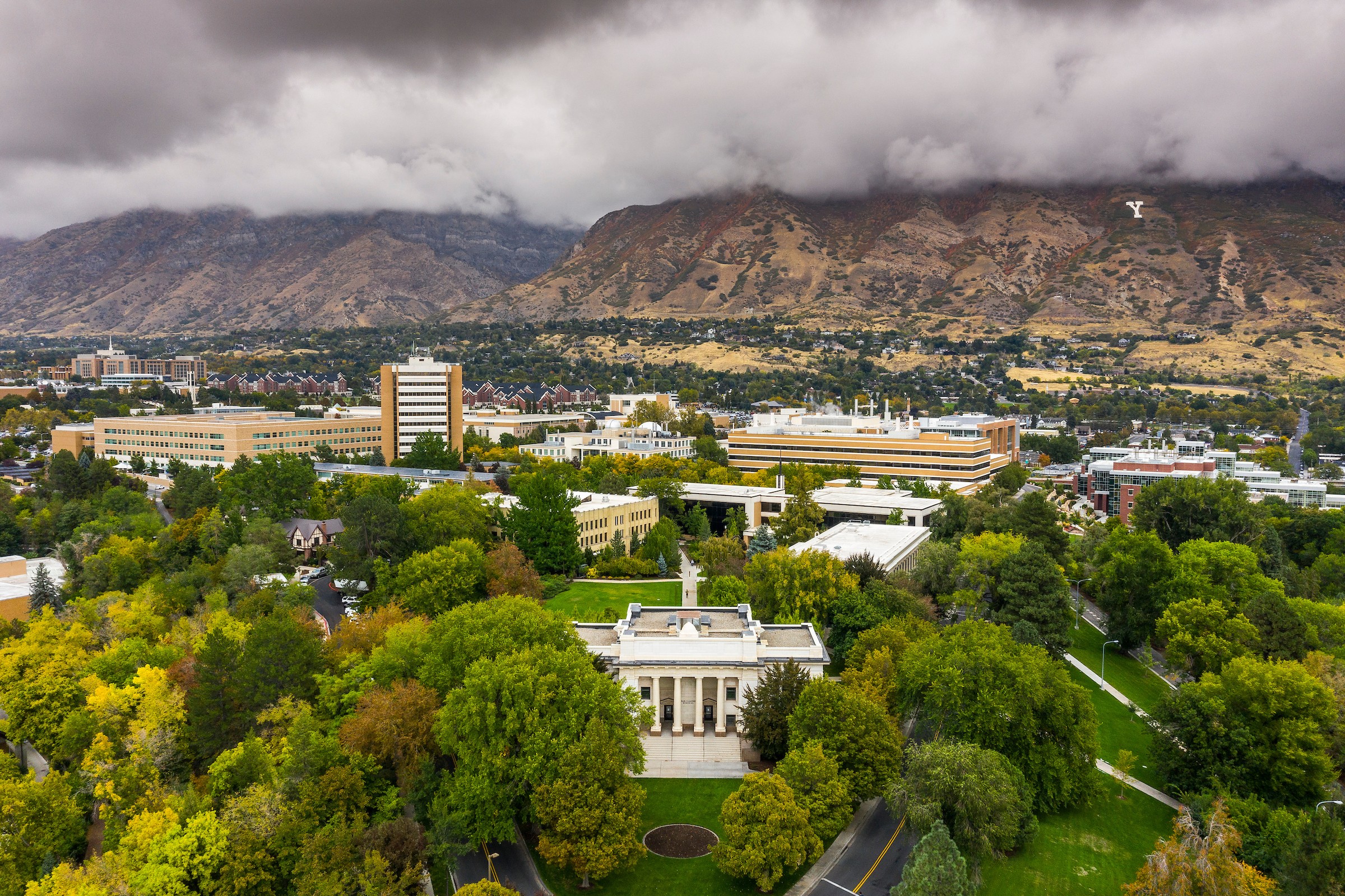 Source: byu.edu
---
Bennington College
Bennington, Vermont
Nestled at the foot of the Green Mountains in New England, Bennington College has been lauded by The Princeton Review and Architectural Digest for its campuses natural and architectural appeal. Its 300 wooded acres are home to more than 80 different tree species, a pond, and a meadow. Bennington also operates the Robert Frost Stone House Museum in nearby Shaftsbury, where visitors can stroll through an apple orchard propagated by from the poet's own apple trees.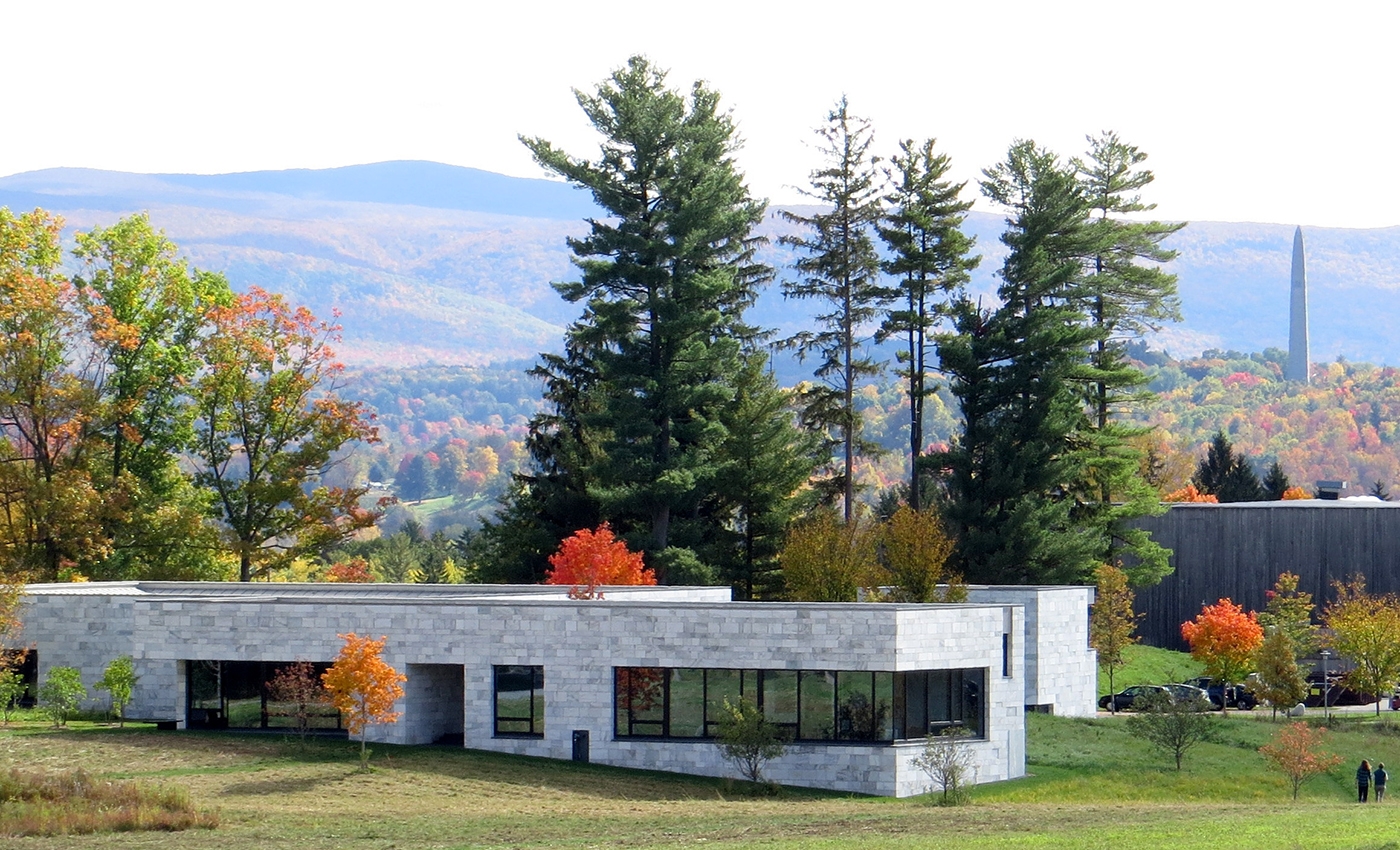 Souce: bennington.edu
---
University of Richmond
Richmond, Virginia
Despite its suburban setting, the University of Richmond has a distinctly rural feel. The school's four walking trails allow students, staff and visitors to get close to nature, including the campus' Westhampton Lake, and nearby James River. The numerous trees along these trails provide fresh air, shade, and noise buffering, creating a relaxing environment. Walkers and joggers can keep their eyes out along the way for native tree species including Virginia Pine, Eastern Redbud, and Bald Cypress.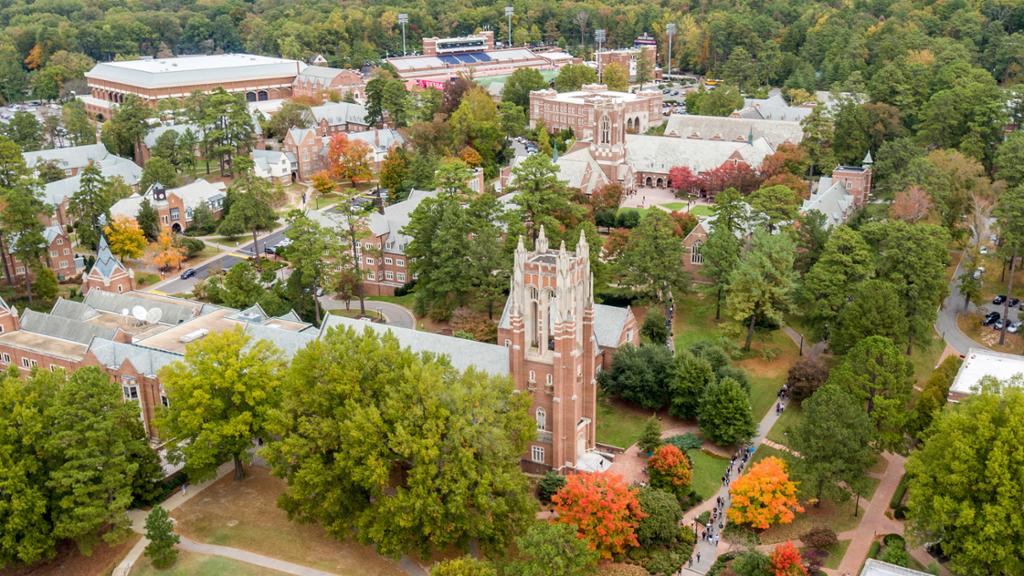 Source: richmond.edu
---
George Washington University
Washington, D.C.
Washington, D.C. is synonymous with cherry blossoms, and visitors to George Washington University will surely find these familiar pretty pink blooms throughout campus. However, there is a lot more to discover at this school nestled in the heart of the nation's capital. The Mitchell Hall Courtyard features sixteen trees whose leaves form a cathedral-like canopy that offers a quiet respite from the bustle of the city, while a pedestrian breezeway between Fulbright Hall and Science and Engineering Hall is lined with 10,000 native trees and plants.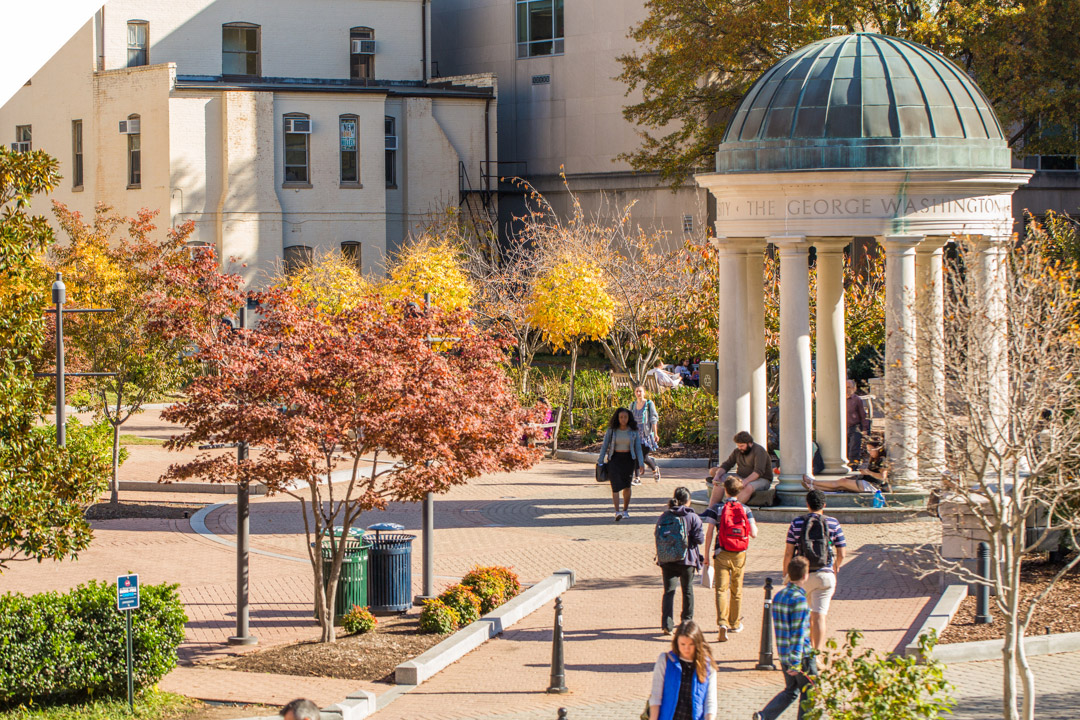 Souce: gwu.edu
---
Fox Valley Technical College
Appleton, Wisconsin
Not only do the beautiful maple trees dotting the Fox Valley Technical College campus appeal to a visitor's sense of sight, they appeal to their sense of taste as well. In this living laboratory, students in the school's Natural Resources program tap the maple trees to gather sap, which is then turned into maple syrup. The campus is also home to several wooded areas, perfect for an outdoor study session, or relaxing moment between classes.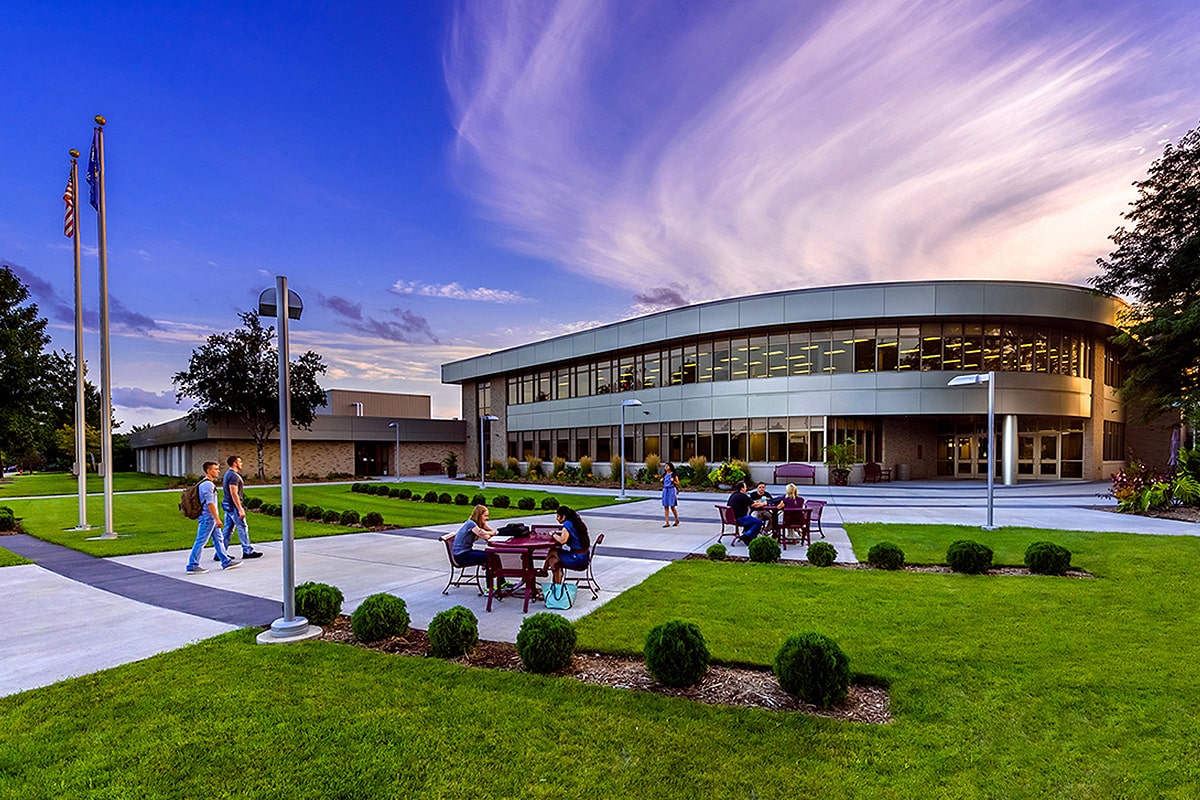 Source: fvtc.edu
---
Marshall University
Huntington, West Virginia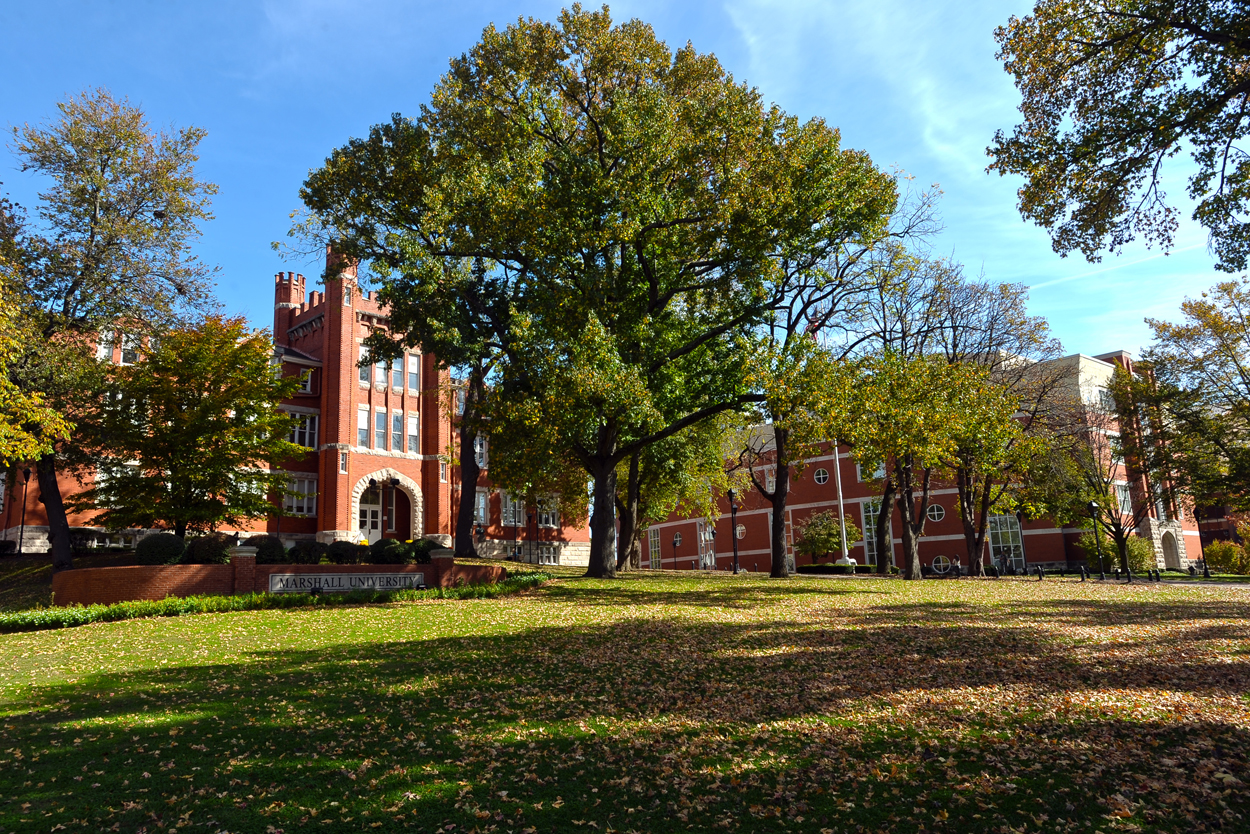 Located in the western portion of West Virginia, Marshall University is surrounded by national and state forests. So it's no surprise that the university's campus is home to over 700 trees, with an impressive array of native and adaptable varieties. Chief among them is the Marshall Beech Tree, grown from a seedling of another beech tree that stood on campus since before the school's founding in 1837. Marshall's collection of trees also includes several varieties of oaks, maples, and cherry trees.
---
University of Wyoming
Laramie, Wyoming

At the heart of the University of Wyoming campus is Prexy's Pasture, a wide open green space criss-crossed by sidewalks and surrounded by towering evergreen trees. These trees remain green and vibrant as the seasons – and students – change, providing a place for play, rest, and contemplation. For those who don't mind a macabre angle to their nature walks, the Green Hill Cemetery, also located on campus, is another place to get away from it all among Wyoming's native trees.
Explore Our Categories
Lemon Trees

Lemon trees are the full package. They are attractive landscape trees with glossy green leaves and an attractive shape. ...

Ornamental Trees

Ornamental trees are some of the most noteworthy plants in any garden. Whether for their form or eye-catching leaves and...