Home >
1 in 3 Home Gardeners Save $100+ Each Month by Growing Their Own Produce
1 in 3 Home Gardeners Save $100+ Each Month by Growing Their Own Produce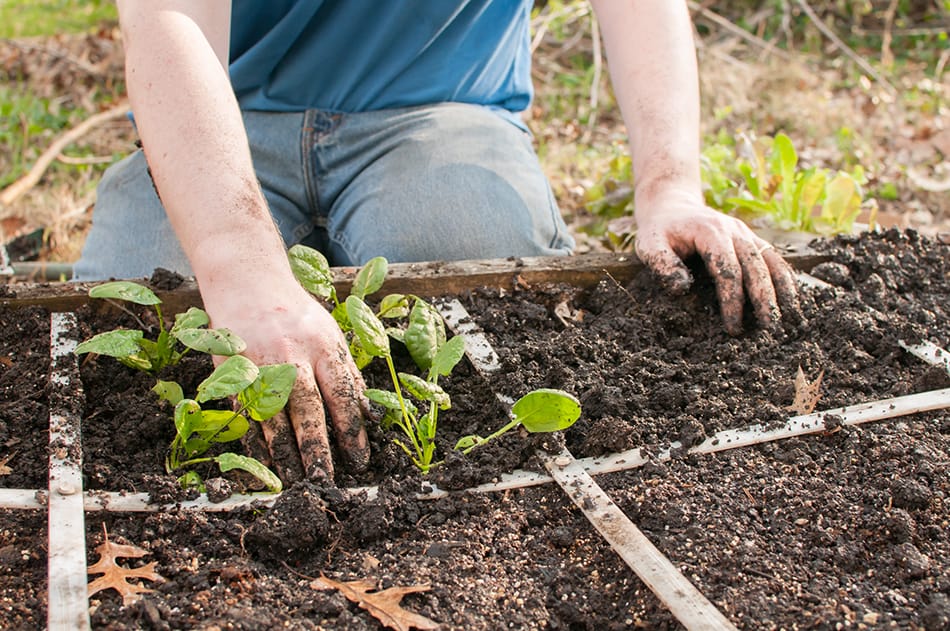 Published: 3/23/2022
Previous surveys have shown that many people took up home gardening as a way to stay busy and combat panic buying during the pandemic. As inflation and supply chain shortages continue to weigh on our minds and budgets, we wanted to find out if the home gardening trend is still growing strong.
We asked 2,000 Americans about their home gardening habits and found that:
50% of Americans have grown their own produce over the past year
36% report eating their homegrown produce every day
33% say they save $100/month or more by growing food at home
Half of Americans Have Grown Fruits, Veggies, And/Or Herbs at Home Over the Past Year
It turns out that pandemic-induced gardening is more than just a passing fad. 50% of survey respondents say that they have grown their own produce over the past year, with the most popular plants being tomatoes, cucumbers, and carrots.
"My family of seven produces about 60 percent of the vegetables we eat. We focus on growing produce we enjoy eating, so we get the most out of our harvest," said Ashley Christian of North Texas.
"The winter months are a little thin, but in the summer and fall, we eat almost exclusively vegetables from our garden. Our favorite things to grow are vegetables we liked eating before we started gardening. Squash, lettuce, cabbage, potatoes, corn, cucumbers, tomatoes, strawberries, and herbs are some of our favorites."
36% Report Eating Homegrown Produce Every Day
Of the 50% of people who grow their own produce, more than one-third (36%) say they eat the crops they grow every day! Additionally, 56% of home gardeners say they eat the produce they grow every so often, with only a combined 8% saying they rarely or never eat their own produce.
"I've had veggie and herb gardens for years. I love the idea of growing my own food and have realized over time that it tastes a heck of a lot better than the stuff we buy at a regular grocery store," said writer Penny Swift. "Whatever I grow, I eat. I have always grown herbs, and my favorites are parsley, rosemary, thyme, and basil. At one stage we produced basil semi-commercially, at home, for a local company that manufactured pesto. What a pleasure!"
33% of Home Gardeners Save $100+ Each Month
Survey respondents reported numerous benefits to growing their own food, including financial savings. 43% of respondents stated that growing their own produce helps them save a lot of money each month, with one-third putting that number at $100 or more. 72% of respondents also said that they believe the world would be a much better place if more people grew their own food.
"Though gardening is an investment of time and a little money, we have benefited far more than what we've put in," continued Ashley Christian. "For most folks, gardening delivers a 7x return on investment. For every dollar spent in gardening, the harvester will save $7 in food costs, and that has certainly been our experience."
Physical Health Benefits, Combatting Inflation and Supply Chain Costs Top Motivating Factors
When asked about other factors that motivate them to grow their own fruits and vegetables, the top answer was for the physical health benefits, followed by combatting rising costs due to inflation and supply chain issues.
"Though my family has been gardening for five generations, I started my personal 35 by 70-foot garden about five years ago," added Ashley Christian. "It was a place of solace and refuge during the pandemic. Between bare grocery shelves, rising costs, and the great toilet paper shortage of 2020, we sleep better knowing we've shortened the supply chain to our own backyard."
However, other home gardeners cited more sentimental reasons as their inspiration. "My grandma had a huge garden. It was a big rectangle with rows and rows of strawberries, asparagus, melons, rhubarb, tomatoes, onions, potatoes, and so much more, " said Melanie Musson of Belgrade, Montana. "Every summer, we would spend a month with my grandparents, and the garden was a source of endless wonder and tasty treats. I always dreamed of investing my energy into a garden like hers."
"I'm really attracted to the idea of self-sufficiency in uncertain times (remember empty grocery shelves during COVID?), and also the sense of pride and fulfillment from growing food you can eat," commented Maggie Admire of Toluca Lake, Los Angeles. "A few years ago, I grew lettuce (from the roots of a "living lettuce" from Ralph's) on my balcony. I harvested it for salad, and it was… not great. BUT I felt so good about eating it, because it was my lettuce that I'd watched over for weeks."
"My dad's a big gardener, and I've seen him get the same satisfaction – and much tastier vegetables," she continued. "He does a better job with fertilizer and pest control than I did with my experimental balcony lettuce, so I know home-grown veggies can and should taste better than the grocery store."
City Dwellers Get Creative With Home Gardening
47% of city dwellers say they have still grown their own produce this past year despite lack of space compared to respondents living in the suburbs or countryside. In order to get around this obstacle, many have resorted to more creative methods to successfully grow fruits and vegetables at home.
50% of city-dwelling respondents say they have plants growing on their balconies, 39% have invested in vertical shelving and indoor grow lights for their apartments, and 33% even say they utilize their building's roof for gardening space.
"I recently bought a townhouse with a massive private roof deck. It's basically a whole third floor, and half the reason I bought the place – I wanted as much of a "yard" as I could get in Los Angeles," continued Maggie Admire. "I'm hoping to set up some wide garden pots there this summer, and also considering a small citrus tree for my front entrance. I also love potatoes, so I might experiment with planting some potato eyes on my downstairs patio, which is much shadier."
In addition to growing plants at home, 36% of city-dwelling gardeners have space in a community garden, while 10% have applied for space and 36% say they are interested in learning more about community plots.
The bloom in home gardening popularity that began during the earlier stages of the pandemic is still flourishing. More than half of Americans grow their own produce, and a notable percentage regularly eat their own crops and are able to save money by doing so. City dwellers with limited space aren't prohibited from these benefits either, as many report creatively using their outdoor space to grow plants and getting involved in community gardens.
Methodology
This survey was commissioned by Trees.com and conducted online by the survey platform Pollfish from March 8 to March 10, 2022. In total, 2,000 participants in the U.S. were surveyed. 25% of participants identified themselves as living in the countryside, 38% as living in the suburbs, and 37% as living in a city.
Explore Our Categories
Edible Plants

Edible gardening includes fruit, vegetables, herbs, and edible flowers. There are thousands of varieties within each of ...

Olive Trees

Olive Trees can grow in a variety of climates. Here you'll discover more about how to take care of this popular tree for...

Persimmon Trees

Persimmons come in two varieties: American and Asian. The American type grows wild in much of the southeastern part of t...